'Fate of the Furious' does its job
Beau Jackson-Daily Miner Movie Reviewer
Originally Published: April 17, 2017 5:55 a.m.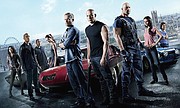 KINGMAN – For those of you who were unable to see either of Friday's afternoon showings of "Fate of the Furious" because you were unwilling or legally unable to test drive new Dodge vehicles in order to obtain tickets that had been sold out to the nearest Dodge dealership, let me tell you what you missed.
"Fate of the Furious" is the newest entry in the popular "Fast and the Furious" franchise, a simple action saga that started life in an over the top yet still somewhat grounded story of illegal street races and the criminal enterprises that intertwine with them. For those of you who are fans of the previous entries, you'll know that the series has evolved into straight up action schlock that is shallow, but also very entertaining.
And "Fate of the Furious" continues that chain of silly, blockbuster action.
Following the continuing adventures of Dom (Vin Diesel) as he is forced to do the bidding of international terrorist Cypher (Charlize Theron), he has to outrun his own friends and family while at the same time committing various acts of espionage around the world. The biggest strength this movie has is it's not afraid to take itself too seriously, and at many times even manages to poke fun at itself. Over-the-top action set-pieces abound as cars explode, outrun Russian submarines, and even band together in thousand strong numbers to wirelessly tear apart the streets of New York.
Obviously, realism was ordered to stay as far from this film as possible.
That doesn't make it a bad film. In fact, if you go into this movie willing to just sit back and enjoy the roller coaster, you'll be entertained from beginning to end. Where "Fate of the Furious" may lose you is in the characters. Seeing as there are so many returning characters and this is the eighth installment of the franchise, it would be too difficult to go into details during this review about each one of them. However, I will say as someone who is familiar with the previous films, this movie does a strange job of retconning some of the characters backstories. You may even find yourself scratching your head as old enemies seem to just forget why they hated each other to begin with and just start working with each other.
There are a couple of plot holes here and there that definitely makes this a movie where you'll need to stretch your suspension of disbelief.
However, if you can get past all of that and just see this as the loud but fun action film that it is, you'll still get your money's worth. If you're a fan of the franchise, or if you just enjoy the occasional summer blockbuster, I'd say that "Fate of the Furious" is worth a shot. But for those of you with just a passing interest, I would just wait for it to hit the Redbox.
3 out of 4 Miners
More like this story
SUBMIT FEEDBACK
Click Below to: