Loyd, Miller win at KBC tournament on the Parker Strip

Originally Published: April 18, 2017 5:55 a.m.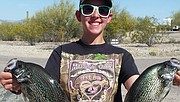 MEADVIEW – The Kingman Bass Club held its April tournament on the Colorado River on the Parker Strip and eight teams entered the one-day event.
Anglers found the fishing to be very good, especially for smallmouth bass.
Most of the teams were able to bring a five-fish limit to the scales.
Tournament winners were Danny Loyd and Mike Miller who had a bag that weighed 17.4 pounds. They edged out the second-place team of Chris Morris and Anthony Tatzel with 16.4 pounds.
Third place was taken by the team of Greg Parker and Eric Wolsey, who had a five-fish limit that weighed 14.9 pounds.
Miller said that his partner had fished a couple of weeks before the tournament, but on the day the tournament started, they couldn't locate any of those fish.
But they did find other bass. Miller noted that he caught a largemouth that weighed just over three pounds on his first cast.
The tournament started at 5:45 a.m. and Miller said they had five fish that weighed over 15 pounds in the livewell by 7 a.m.
"It was a great day of fishing," Miller said. When asked how many fish he thought he and his partner had caught during the tournament, Miller said, "I don't know, but we caught a lot of fish!"
Miller noted that they caught their fish on tube baits.
Most of the fish that Loyd and Miller caught were smallmouth bass. "The only largemouth we caught all day was the first fish I caught right after we started fishing."
The next tournament that KBC anglers will be fishing is a two-day event at Alamo Lake in May.
This flood control lake is located in the Bill Williams Valley about 30 miles from Wenden. It is about a three-hour drive from Kingman.
KBC anglers are hoping that the water clears up before that tournament. This past winter and spring the lake has risen by some reports as high as 42 vertical feet; for anglers, it means they will have to learn the lake all over again.
Alamo sometimes is regarded as one of the best bass lakes in Arizona, and at times the crappie fishing there is phenomenal. But the influx of cold, dirty water this spring has delayed the crappie spawn and made catching these pan fish a real chore. Bass aren't biting real well either, but that could change when the warm weather returns.
The bright spot right now is that for those who like to fish for channel catfish, Alamo is a hard lake to beat.
Stewart Kohnke, a retired wildlife manager for the Arizona Game and Fish, noted that Alamo Lake is the most under-utilized cat fishery in Arizona. Lots of catfish in this lake and they seem to be always hungry. Almost any kind of bait from shrimp, anchovies, and nightcrawlers will usually get you a mess of Mr. Whiskers. Catches of 30-45 catfish a day are not uncommon in this lake.
For more information on Alamo Lake, including the amenities there, call the Arizona State Parks at 928-669-2088.
More like this story
SUBMIT FEEDBACK
Click Below to: