Roughing It: From free parks to what to bring along, camping season has arrived
By
Aaron Ricca
|
ARicca2
Originally Published: April 19, 2017 6 a.m.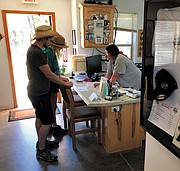 CLARIFICATION
Mohave County Parks department does not have free admission to Hualapai Mountain Park or Davis Camp at any time during the year. The National Park Service will have free admission this Saturday and Sunday. The story has been changed to reflect that.
Time to log out and power down for a night or two. Camping season is here. The National Park Service is offering free admission this weekend, and Mohave County Parks are open for business at regularly scheduled prices. Opportunities to escape the dry, colorless confines of Kingman are within a day's journey for both locals and tourists. Geoff Allison and Roxanne Pike, of North Hollywood, California, were at the Hualapai Mountain ranger station Tuesday morning getting maps and friendly advice from park volunteer Debbie O'Harra. The pair had been staying with family in Parker and wantedto venture to a cooler, more camping friendly atmosphere.
"We really love camping," Pike said.
"We wanted to get away from the desert," Allison added. "We thought we'd come up here before going back."
O'Harra, a Golden Valley resident, has been hiking the Hualapais for 25 years and volunteering at the park for three. She stays in a tent as a camp host during the summer months.

"It's my big backyard," she said. "I raised three kids and four grandkids up here."
Mohave County is home to two major campgrounds: Hualapai Mountain Park about 15 miles east of Kingman; and Davis Camp near Bullhead City. Both offer ways to escape the summer heat – Hualapai with an average 6,700-foot elevation and 2,300 acres of trees, and Davis with the Colorado River.
Day use for both Hualapai Mountain Park and Davis Camp is $7 per vehicle (four people) per day, 7 a.m. – 7 p.m. A $40 Mohave County resident annual day-use pass covers entry to both parks.
There are a variety of campsites, teepees, bunkhouses and cabins at the two campgrounds for rates ranging from $35 to $115 a night, depending on the day of the week.
O'Harra offered a few tips for Hualapai visitors, most of which are experienced campers, but also for day trippers caught off guard by the difference in desert vs. mountain elevations and ecosystems.
She gets plenty of grief from locals who don't realize they have to pay to get into the park, which collects no fees from the county.
"None of the taxes go to the parks," said Mohave County Park Superintendent Rob McEuen. "The only way we keep the parks operating is to charge fees."
"One thing people don't realize is that Deer Canyon (south of the entrance) is part of the park and it is a fee area," he added.
Most people understand the fee necessity upon entering the park. They then have to coexist with nature.
Forest Creatures

Animals and the environment provide plenty of challenges for campers and hikers, but preparation will ease pain in the long run.
O'Harra said to use bungee cords to secure coolers.
"The elk and deer know how to open everything," she said, while adding the importance to not willingly feed wildlife. "When the babies grow up on junk food, they don't learn what to eat in their natural habitats. When they can't eat, they quickly become food for the predators."
Pets are required to be leashed and should be brought inside at night, lest they become a snack for predators.
"They may try to sniff out the black and white 'cats,'" O'Harra said. "We do have skunks up here."

Cabins and Campsites
Most of the cabins are self-contained with heat, electricity and running water. Bring your own wood or buy it at the ranger station. Foraging in the park in prohibited.
"We have toilet paper, shower curtains and a mattress," O'Harra said. "Everything else is on you."
She recommends bringing a rake and shovel to clear an area before pitching a tent, but fire prevention is her biggest concern.
"I keep a fire extinguisher and gallon of water near my fire pit," she said. "Don't just throw dirt on and churn the ashes. All that does is cover the ambers. One strong gust of wind will blow them around."
Mix water with the coals and make sure the fire is out.
Communication
O'Harra said search and rescue crews are called to the park about three times a year. Something as simple as signing the trailhead guest books or leaving a note on a windshield or dashboard to let others know of your intentions can save responders time in the event they're needed.
"Give someone a clue to find you," she said.
Weather
Speaking of trails, water is important in more ways than one.
"Don't take off on a hike without water in hand," O'Harra said.
Visitors often underestimate the cool temperatures and high elevation (the same as Flagstaff) and often succumb to dehydration. There is plenty of potable water at the park but it doesn't hurt to bring your own.

Wet weather gear and layered clothing is a must. Summer monsoon storms appear out of nowhere and can dump inches of rain within minutes. Having a tarp handy will cover picnic tables and groups of frigid campers.

Plan in Advance and Be Nice
Hualapai Mountain Park is open year-round with 55 campsites, 24 cabins, two RV parks and three group recreation areas.
O'Harra recommends calling ahead for cabin reservations and fire conditions. Campsites are available on a first-come, first-serve basis.
"Check all your supplies before you get here," O'Harra said. There's a small store near the park, but it's privately owned and hours shift depending on park occupancy. Forgetting something important will cost about an hour round-trip to town and back.

For safety, security and access purposes, park rangers, sheriff's deputies and Pine Lake fire trucks make occasional rounds through the park. Park volunteers staying on-site also keep eyes and ears open. Overall, the park is usually a chill scene.
"People are predominantly good to each other," O'Harra said. "Be prepared to be courteous to other campers."
For information on county park locations, facilities, amenities and rates, visit www.mcparks.com.
More like this story
SUBMIT FEEDBACK
Click Below to:
This Week's Circulars
To view money-saving ads
For as little as $3.49*