Kingman Range Days introduces shooting sports
Originally Published: April 26, 2017 5:55 a.m.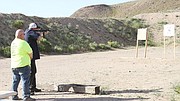 GOLDEN VALLEY – The Mohave Sportsman Club held a "Kingman Range Days" event at its Seven Mile Shooting Range in Golden Valley April 8.
People learned about shooting sports at The Seven Mile Range, which has rifle, trapshooting (shotgun), archery, pistol and other ranges.
The range offers youth archery, pistol, and trapshooting clubs. Providing youth a chance to learn about gun safety and get an introduction to using firearms or bows was the intent of the event. There was a "cowboy action shoot" as well.
"Kids are the heart of the event," explained Chris Wagner, owner of the Gun Shop.
Wagner was at the event educating people on the use, function, and legality of silencers.
All proceeds from the event went to Mohave Sportsman Club youth programs.
Mike Meredith, who was there with his son, Colton, 10, said "We do a little target shooting. This (event) gives (Colton) the opportunity to get a feel for trapshooting and archery that I might not be able to give him."
Nearly 50 volunteers served at the event, donating their time and in many cases their own equipment and ammunition. They took an eight-hour training course in order to instruct at the range. Kids 8 to 18 shot at the event for free, and many adults showed up to learn as well.
The MSC hopes to run the event again next year. For more information on the event, the range, or youth shooting programs, call the MSC at 928-753-8038 or visit www.kingmanrangedays.com.
More like this story
SUBMIT FEEDBACK
Click Below to: