Kingman is finding ways to reuse treated water
Kingman is looking to reuse water
By
Aaron Ricca
|
ARicca2
Originally Published: August 1, 2017 6 a.m.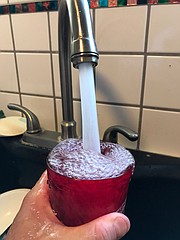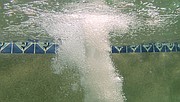 The City of Kingman's water treatment facilities already reuse solid waste for compost and are looking for a way to recycle the liquid waste, too.
Water is a dwindling resource for the ever exploding desert population, and it's time to find a way to make the best of what we have.
The same system that separates solids at the Hilltop Wastewater Treatment Plant also produces daily approximately 1.6 million gallons of treated water effluent into its 120 acres of wetlands north of the plant. Of that, one million is Class A effluent, and suitable for use in food crop, residential, school ground and open access irrigation, fire protection systems, commercial closed-loop air conditioning systems and vehicle and equipment washing (not including self-service car wash).
The remaining effluent, Class B, can be used for surface irrigation of orchards and vineyards, golf course and restricted access irrigation, landscape impoundment, dust control, livestock watering, concrete and cement mixing and street cleaning.
It would be those one million Class-A gallons that could either be redirected through a yet to-be-built infrastructure or injected into the Hualapai Valley Basin aquifer that Kingman gets its water from.
Wastewater Superintendent Keelan Yarbrough and Public Works Director Rob Owen are the go-to guys figuring out how to put that recycled water to use.
There are currently two options for reusing Kingman's water supply.
One would be to design, build and regulate a new infrastructure of pipes, pumps, filters, monitoring equipment and maintenance staff responsible for channeling treated effluent back toward the city and airport. There are nearly 220 miles of sewer lines running through through Kingman. Owen estimates it would cost the city around $8.2 million for new city infrastructure and around $10.7 million for an infrastructure to the airport.
"We would need that money up front," Owen said. "There's really no big users of water (at the airport) right now."
The other (and cheaper) option would be to inject the effluent into the aquifer at an initial estimated cost of $1.5 million. Since the hilltop plant – and most of Kingman – sit on top of the aquifer, injection would take place on-site via a series of pumps. Basically, what comes out, goes back in.
"Neither are mutually exclusive," Owen said "Both options are on the table."
Hazen and Sawyer, a water engineering and research firm, is currently working with Public Works to determine injection infrastructure and location – it wouldn't be pumped directly into the aquifer.
"It's all about geology," Yarbrough said. "We would have to inject into a permeable surface for filtration."
Hazen will also provide cost estimates, which would ultimately have to be approved by city council. Owen expects Hazen's first report within two months.
Can You Drink It?
Class A effluent is the last step before being treated for human consumption.
Cities in California and Texas have adopted "Toilet to Tap" water treatment programs, and according to Cronkite News, Arizona may get the blessing from ADEQ by the end of this year.
The filtration, monitoring and purification process for effluent at the Kingman wastewater plants is just as, if not more stringent, than that of potable water, Owen said.
The wastewater department tests samples regularly for levels of harmful materials such as hydrocarbons (gasoline, oil) and household cleaning products (bleach, laundry detergent) which could be harmful to the treatment process. There's no way to test for one specific chemical, but certain levels of pollutants could taint the entire treatment process. Samples are taken at numerous sites, including major wastewater producers such as Kingman Regional Medical Center and the Mohave County jail.
"We try to regulate at the source," Yarbrough said. "That's critical before it gets to the treatment plant."
As with compost, the quality of the biomass and bacteria in the aeration and filtration tanks determines the outcome quality of effluent.
"We rely on those bugs at the plant for treatment," Owen said. "We try to marry the biology with the mechanical process."
Two tertiary filters (reminiscent of jet turbines filled with hundreds of coffee filters) at the end of the hilltop plant's treatment process get the water to Class A effluent status, but potable is still a ways off. So for now, aquifer injection it is.
"It's the best bang for our buck," Owen said. "It's the logical place to start."
SUBMIT FEEDBACK
Click Below to:
More like this story