The Lingenfelter Center has spent four consecutive years in the top 100 national nursing homes
Originally Published: August 3, 2017 6 a.m.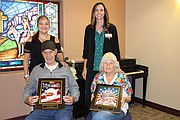 Nettie Rankin was upset with her son for taking her from her home where she had all of her collectibles.
He placed her in the Lingenfelter Center for Alzheimer's Care, which is ranked
among the top 100 nursing homes in the nation, according to U.S. News & World Report.
The news magazine included Lingenfelter Center on its 2016-2017 list for the fourth consecutive year after evaluating nearly 16,000 skilled nursing facilities in the nation over a 12-month period.
The report recognized nursing homes with overall ratings of 4 1/2 stars or more, based on three elements: state-conducted health inspections, nurse staffing and medical quality measures.
Lingenfelter Center, 1099 Sunrise Ave., was established in 2003 by the late Dr. John Lingenfelter, a local physician who recognized the need for a secure environment for people suffering from Alzheimer's disease.
It's one of four sister facilities managed by Kingman-based Creative Care, including The Gardens Rehab Center.
The overall goal is to create an atmosphere where residents receive personalized care that will make them comfortable, said Kristen Ott, administrator at Lingenfelter Center since 2013.
The staff at Lingenfelter Center uses a "palliative care approach" to treat the symptoms of Alzheimer's, not the disease, she said.
"We give them quality of life," said Ott, who started her career at Lingenfelter Center after receiving a degree in business administration from Arizona State University in 2005. "We live in their world. If they say they're the U.S. president, we say, 'Yes, you are.'
"If you don't agree with them, they just become agitated and then you have a behavioral issue in the hall," she said.
Dr. Lingenfelter always told his nurses that patients are their first priority, not their last, Ott said.
Critical decision
It's a major concern and heavy responsibility to care for aging parents, and nobody wants to put them in a home unless it's a last resort.
Some 1.4 million people will spend time in a nursing home this year, some of them on short-term rehabilitation stays following surgery or injury, others as long-term residents in need of constant care. Those are the majority at Lingenfelter Center.
"It's hard at home," Chief Executive Officer Amy Elsbury said. "We've had multiple caregivers who want to sleep at night, and their loved ones want to wander."
Just over 2,000 nursing homes earned the designation of U.S. News & World Report's Best Nursing Home.
"It makes me very proud knowing how hard our staff works and cares about our residents to know they're being recognized nationally for that care," Elsbury said.
The nursing home ratings are designed to help potential residents and their family navigate the process of finding a home that meets the individual's needs.
U.S. News used other quality measures, both related to rehabilitation therapy, in its methodology. In 2016, the Centers for Medicare and Medicaid Services, or CMS, for the first time released data on nursing homes' rehabilitation therapy. The data followed a Wall Street Journal investigation that raised concerns about potential inappropriate use of rehabilitation therapy at certain facilities.
"Every year we strive to improve upon the information we offer to our users making critical decisions," said Ben Harder, chief health analyst for U.S. News and World Report. "With our new methodology, we have taken several steps to ensure that nursing homes that consistently perform well are highlighted."
Residents at Lingenfelter Center live in three different villas – Cholla, Ocotillo and Saguaro – that are secure and have separate outdoor courtyards with views of the desert landscape. There are 88 semi-private rooms equipped with ADA-approved bathrooms and showers.
"It's an honor to work in our patients' home," Ott said. "We don't consider this our work environment. It's our patients' home."
More like this story
SUBMIT FEEDBACK
Click Below to: