104 grandkids ... and counting
Mary Bathauer's descendants catch 'The Today Show's' attention
Originally Published: August 6, 2017 6 a.m.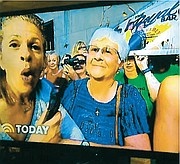 Mary Bathauer lived her 15 seconds of fame when she appeared briefly on "The Today Show," interviewed by co-host Hoda Kotb on the street outside NBC's New York studios.
It was Bathauer's daughter, Mary Ann, who grabbed Hoda's attention when she pointed to her mom and shouted, "This woman has 104 grandkids and some more on the way."
Bathauer, 82, who has lived in Kingman since 1977, was on her way back from a trip to Ireland in June when she stopped over in New York and was interviewed on national television.
"It wasn't five minutes of interview. She (Hoda) just said, 'Tell me about these grandkids.' Later in the show, she recognized me and came over and shook my hand again. I told her she was a good mom, that I'd seen her baby on TV," Bathauer said at her home, which is filled with pictures of her family on the walls and shelves.
Born and raised in Chicago, Bathauer married at the early age of 18 and gave birth to eight children in 11 years.
"My husband (Ed) had a saying: a good Catholic woman and a horny German," she said. He passed away in 2007.
They had six daughters and two sons: Ed, Cheryl, Mary Ann, Therese, Francine, Julie, Elizabeth and John.
Bathauer's children produced 28 grandchildren, 54 great-grandchildren and seven great-great-grandchildren, including one born just three weeks ago. Plus she has more than a dozen grandkids through marriages.
"We're a family of rabbits," Bathauer said. "It wasn't me. It was my daughters. I've got two more (great-great-grandchildren) on the way in January and February."
That can get expensive around Christmas.
"I don't shop any more at Christmas, but the family gets together and we play a game and everybody brings gifts for the game, and that's how I participate," the family matriarch said.
She's got 50 to 60 family members living in the Kingman area, a daughter and son in Phoenix and Tucson, and two daughters in California.
It's difficult to name all of her grandchildren and their kids, but Bathauer sends birthday cards out to all of them, along with $5 until they turn 16.
Bathauer said birth control was never a consideration for her and Ed, both Catholics.
"I believed God would send me what I wanted to have," she said. "At times, it wasn't easy because they were so close (in birth), but He doesn't send you anything you can't take care of and that's my faith."
Ed held down three jobs at once in Chicago to make a go of it, and Mary didn't go to work until they moved to California in 1967.
Ed had a friend that they visited in Kingman, and they liked the small-town atmosphere. They thought it would be better for the four kids they still had at the time.
"Kingman is unique, I think," Bathauer said. "You have the mountains, you're close to the river, you can go to Vegas, you can go to Laughlin."
Bathauer's youngest son, John, died in 2012 from cancer and has an annual softball tournament in his honor. She remembers him once saying, "Anyone who doesn't like Kingman can leave. I-40 is there for you anytime."
More like this story
SUBMIT FEEDBACK
Click Below to:
This Week's Circulars
To view money-saving ads
For as little as $3.49*