Is the Lottery Worth It?
Are the $300 million national jackpots worth the money spent on tickets?
By
Aaron Ricca
|
ARicca2
Originally Published: August 14, 2017 6 a.m.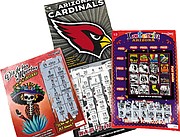 Whether you're playing for fun, or dreaming of an easy retirement, lottery tickets are for both the bored and hopeful.

In 2016, $205 million went into Arizona arts, education, environmental, health and human services and economic and business development programs.

Friday's Mega Millions jackpot was $393 million and Saturday's Powerball jackpot was $356 million.
"When it starts getting big like that, a lot more people play, and they play a lot," said Hualapai Kwik Stop Assistant Manager Sarah De Nubilo.
It would be nice to know why the thousands of Kingman lottery players play, how much they spend and what they've done with their winnings, but for the sake of brevity – and deadlines – a quick gloss over will have to do.
Ticket Sales and Trends
From Aug. 6 to 11, Hualapai Kwik Stop raked in more than $3,200 in sales of scratchers, Powerball, Mega Millions and The Pick. Most of that was from Powerball.

The Kwik Stop's Hualapai Mountain Road location, along with gas, beer, shaved ice and propane sales, lures a wide array of customers – some of whom figure why not buy a quick Powerball or scratch ticket while topping of their tank.
"I would say that's for sure," De Nubilo said.
Lotto sales are still building up at the new Byer's Liquor that opened in March at the former Circle K on Kingman Avenue.
"When I was at Gas Plus, we were killing it," said Manager Jeannie Montez, who used to work at the Gas Plus location on Harrison Street. Byer's is off the beaten path and more frequented by neighbors grabbing a cold soda or six-pack of beer.
She said Gas Plus sold more than $9,000 in Powerball tickets for the $1.5 billion Powerball jackpot in 2016. With the $300 million-plus jackpots this weekend, more customers are biting.
"The people that don't normally buy a ticket, buy a ticket," Montez said.
Customers
Anybody who has ever had to stand in line behind someone with an armful of tickets to cash in knows, like any form of gambling, Lotto is a beast that attracts some interesting people.
"We've had customers that will come in and buy a whole book of scratch tickets," De Nubilo said. "The $20 and $30 scratchers cost $600 a book."
For a tiny piece of paper, she sees a lot of money flow through the registers
"I just think to myself, 'Hey, it's your money,'" she said. "Some people say it's cheaper than going to Laughlin."
Business owner and Lotto regular Jim Rosier disagreed. He once won $1,000 playing nickel Kino, but was still buying a ticket for Friday's Mega Millions drawing. He usually plays twice a week, be it's scratchers or drawings. He'll occasionally win a few bucks.

"My wife usually takes it," he said. "Or I just pay bills."
He's been in the furniture business for 23 years and wouldn't mind a million dollar retirement package.
"I'm tired," Rosier said. "I want to call it a day."
Hopes of hitting the jackpot weren't on Byer's customer Kevin Taylor's agenda. He was also grabbing a Mega Millions ticket, but more for just the hell of it rather than aspirations of wealth.
"It's rare that I play," he said. "So the prize is so high, I figured why not?"
Taylor too has only scored some minor prizes.
"I won $20 once," he said. "I 'reinvested' it."
Both De Nubilo and Montez lamented on the days of Nevadan's making a mad dash to Kingman to purchase Powerball tickets during big jackpots in order to avoid waiting in line at Rosie's Diner on U.S. Highway 93.

"For them, it was quicker drive to Kingman and back than waiting in traffic," Montez said.
The Payout
Someone's got to win. What they do with the money is anyone's guess.
Hualapai Kwik Stop recently sold a $30 Ultimate Millions scratcher worth $1,000. They've also sold a $10,000 winning ticket.
"They guy came back and left a tip," De Nubilo said. She wouldn't say how much.
Montez once sold a ticket that scored a Kingman man $250,000.
"They guy said he owed his wife money," she said. "I think he owed a lot of back taxes too. He probably walked away with less than $100,000."
All Lottery retailers will redeem prizes up to $100, and may redeem prizes up to $599. Winners must redeem by mail or in person at Arizona Lottery offices in Phoenix or Tucson.
Retailers receive a 6.5 percent commission on lotto sales. If a Kingman buyer was to hit the $393 million Saturday prize, the Kwik Stop's owner would get a $2,500 cut.
As part of my story, I had to play the game. De Nubilo said the $20 and $30 scratchers seem to have more frequent winners with decent payouts. I couldn't stomach slapping down a $20 bill for something that might go nowhere.
I picked up one $3 Loteria Arizona scratch ticket at Hualapai Kwik Stop. It was a loser.
Montez said the newer scratch tickets tend to have better odds.
"The newer tickets pay off better," she said. "(Arizona Lottery) tends to want to suck you in."
In order to test the "new ticket" theory, I bought a $2 Dia de los Muertos and $10 Arizona Cardinals scratch ticket. Both were losers. Goodbye to $15 better spent on a 12-pack of Pabst Blue Ribbon and a burrito. But at least it goes back into to numerous Arizona programs that benefit me in ways I probably don't even realize.
Don't lose hope yet.
Check your pockets. There are currently $1,100,000 in unclaimed Powerball winnings and $10,000 in Mega Millions winnings. You have until Powerball is Oct. 30 to claim Powerball and Dec. 20 for Mega Millions.
More like this story
SUBMIT FEEDBACK
Click Below to: