Prep Football: Kingman uses ground attack to defeat Joy Christian, 26-6

Originally Published: August 19, 2017 5:54 p.m.
KINGMAN – Austin Dias had never returned a punt in his life.
That changed Friday night and Dais made sure it was a memorable first experience. The sophomore took a punt 62 yards for a touchdown and the Kingman High School football team never looked back in a 26-6 win over Joy Christian.
Photo Gallery
Kingman vs. Joy Christian - August 18, 2017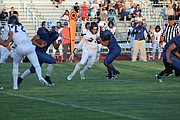 The Kingman football team picked up a 26-6 win over Joy Christian in its season opener Friday night. Austin Dias and Darrell Mitchell each scored two touchdowns for Kingman. Mitchell finished with 131 yards rushing, while Dias added 110 yards on the ground. Kyle Ferguson caught two passes for 84 yards to lead the Bulldogs in receiving. Photos by Shawn Byrne.
"The win means a lot for us," Dais said. "Last year we didn't do very well, but now we're a whole different team. So I'm proud of us now."
Dias added another touchdown for the Bulldogs, while Darrell Mitchell punched in two scores of his own. The duo combined for 241 yards and three rushing touchdowns to lead Kingman's offense.
"Dias and I, we just put our all into it," Mitchell said. "We wanted to work our way down field. They gave us a fight and we were just fighting back."
That battle was also evident in the rest of the Bulldogs as they continued to show their grit. Even Bulldogs head coach Cam Wierson could see it.
"They bought in to what I've been preaching," he said. "In life, bad stuff happens. In games, bad stuff happens. A good man will keep going hard no matter what happens. We're doing that. It's exciting."
Kingman definitely kept giving 100 percent effort throughout the game despite early struggles. The Bulldogs turned it over on downs on the one-yard line during the first quarter, but kept at it.
Dias' punt return touchdown came with under three minutes remaining in the first half and sent the game into intermission tied, 6-6.
Kingman made sure to carry over the momentum into the second half as Mitchell scampered five yards into the end zone for a 12-6 lead with 7:12 left in the third quarter. Mitchell later added another short touchdown run to push the Bulldogs' advantage to 18-6.
At that point, Kingman had all but sealed the game. The Bulldogs put the icing on the cake with 3:09 to play when Dias punched it in from nine yards out for the final tally.
"They're bought in and they believe in what we're doing," Wierson said. "One of the three things that I tell them is the scoreboard is a ghost. Whatever the score is on either side does not tell what kind of man you are – effort does. Don't ever look at the points on either side. Ever. And they believe in it. So we just kept playing."
Kingman finished with 400 yards of total offense, easily outgaining Joy Christian's 184 yards. Dias and Mitchell weren't the only stars of the game though, as Kyle Ferguson finished with two catches for 84 yards and Chris Gomez scored a two-point conversion for the Bulldogs.
"The win is going to keep our confidence up," Mitchell said. "It's going to help us going up against Lee next week. That's going to be one heck of a game. All we can do is keep pushing forward and keep fighting."
Kingman returns to the field Friday for a 7 p.m. contest at Lee Williams.
"We're 1-0," Wierson said. "We're going to work on going 1-0 next week. We're going to have a bigger, newer animal going down there to play (Lee Williams) next week. That was an appetizer tonight."
More like this story
SUBMIT FEEDBACK
Click Below to: