Photo by Aaron Ricca.

Originally Published: August 21, 2017 6 a.m.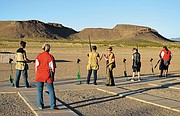 It's been decades since people associated guns in school as a positive thing.
Established about seven years ago, Mohave County Sheriff's Deputy Kerry Schanaman started the Sharpshooter's Club at Kingman High School that teaches archery, pistol and shotgun shooting skills. Since then, an average of 12 lucky high schoolers a year have had the opportunity to safely and responsibly practice their shotgun, speed-pistol and archery skills. Don't be alarmed, it's not like the kids are toting weapons through the hallways.
"There are no guns on campus. Ever," said Jody Schanaman, widow of Kerry, who passed away in March. She's also a Kingman FIRST Robotics Team 60 coach and Mohave County Dispatch Supervisor.
Freshmen through senior KHS students can join the Sharpshooters Club for a $1 fee. To learn weapon familiarization, the students handle dry-fire laser shooting plastic guns at computer simulated targets similar to an arcade. To get the feel of trigger squeeze and recoil, Schanaman, who coaches alongside her son, Joshua, needs to get as close to the real deal as she can when on campus.
"Some of the kids ask why we don't use paintball or pellet guns," Schanaman said. "They just don't have the same training aspect."

For live-fire events during the school year, the club uses the indoor range at Bank Street Guns and the outdoor range at Seven Mile Hill Range on Oatman Road. For archery, students use a Genesis compound bow, steel-tipped arrows and shoot at two-dimensional paper targets or 3-D animal-shaped targets. Their range is the grass field south of the KHS tennis courts.
But the Sharpshooter Club doesn't stop there.
The Schanamans, along with a team of other coaches, are always looking for kids of nearly all ages to join the local Mohave Scholastic Clay Target Program, Scholastic Action Shooting Program and National Archery in the School Program. These are a few more activities to get kids outdoors and keep them out of trouble.
"The parents are totally down with it," said shotgun coach and mentor Stacy Hadley, who has two sons in the MSCTP. "We're always looking for more kids to join."
Fees range from $20 to $25 for the year (September through May) and cover costs for guns, ammunition, targets, eye and ear protection and competition entries. Many additional costs are covered thanks to grants from Arizona Game and Fish, Friends of NRA, Midway Foundation and donations from Bank Street Guns. The clubs also hold fundraising events and raffles to offset out-of-pocket costs for state and national competitions.
Beginning Sept. 2, firearm and archery practice will be at the 7 Mile Hill Range the first and third Saturdays of each month through May.
Student shooters use a .22-caliber Ruger Mark IV for speed shooting. Kids ages 12-and-up are eligible for that category. The shotguns for clay target shooting are usually 12- or 20-gauge – whichever fits the athlete the best. Children ages 9-and-up are eligible for that program. Beginning this year, shooters will use a .22-caliber rifle for the Scholastic Action Shooting Program, which is similar to pistol speed-shooting events. Kids as young as six can enter, if they can hold the rifle unassisted.
"Our two biggest philosophies are safety and respect," Schanaman said. "If a child cannot hold a weapon unassisted, I won't let them shoot competitively."
The program's goal is to teach youth about safety and responsible handling of firearms.
"They eat and sleep safety," Schanaman said.
A safety brief is given on each range during each event. The basic marksmanship fundaments of treating a weapon as if it's always loaded, keeping fingers off the trigger until ready to shoot, muzzle awareness and being aware of the target and what's beyond it are seared into the shooter's consciousness.
Hadley, Schanaman and other coaches were supervising a group nine children and teens from different schools at the Seven Mile Hill Range last week.
Kingman Academy of Learning fourth-grader Minerva Ramos was getting ready for her first time shooting clay targets.
"I'm going to shoot off a few shells and see how it feels," she said. "If my arm isn't too tired, I'll shoot some more."
Romas has been shooting speed-pistol since May and hopes to expand her marksmanship resume. Coach Hadley brought the girl out on behalf of her parents, who were home caring for newborn twins.
"She's still getting used to the whole (shooting) thing," Hadley said.
KHS senior Levi Franklin was the most experienced shooter in Wednesday's group. This is his fourth year in the shooting programs. Certain physical limitations kept him from participating in high intensity athletics, so shooting became his sport. Kerry Schanaman introduced Franklin to archery his freshman year, and he realized the potential for learning more at Seven Mile Hill Range.
"I came out and loved it," Franklin said. "This helps me relax and gets me out of the house. Plus, it's fun."
KHS was the first public school in Arizona to start a shooting program, according to Schanaman. The Schanamans made a push to get the Sharpshooters Club school-sponsored. All shooting programs are scholastic based and grades are important for competition. Like with sports, an unsatisfactory grade point average will prohibit a child from competing in state and national events. So far the club has taken off and there's always room for more participants.
"We have been supported by (KHS) as well as the school district," Schanaman said. "We have support from the community and the district in one way, shape or form."
For more information on the shooting programs, contact Schanaman at 928-279-5274.