Diane Richards pleads guilty to four counts of felony theft
Former City of Kingman employee was charged with embezzling $1.1 million
Originally Published: August 26, 2017 8:28 a.m.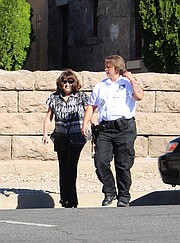 KINGMAN – Diane Maxine Richards entered a guilty plea Friday to four counts of Class 2 felony theft in the embezzlement of $1.1 million from the City of Kingman when she worked in the finance department.
Adam Schwartz, counsel from the Attorney General's Office, did not object to the plea agreement, which comes after nearly two years of court hearings.
Superior Court Judge Billy Sipe can either accept or reject the guilty plea. He set judgment and sentencing for Oct. 4 in Courtroom B.
Richards, 60, can be sentenced to three to nine years in prison for three of the felony theft counts, to be served concurrently, and would be placed on supervised "white-collar" probation for the fourth count.
Sipe ordered Richards to pay $1.1 million in restitution, with money to be taken from her public retirement account to pay the restitution.
Presumptive sentencing would be five years, with a possible early release after 85 percent of time served, Sipe noted. He could impose an additional year in Mohave County jail as terms of the probation, and 12 1/2 years in prison if Richards violates her probation.
"It'll be up to me to decide if you serve more than the presumptive five years," the judge said.
By pleading guilty to four counts, Richards was dismissed from 19 other counts, including felony theft, forgery and misuse of public funds. The state also withdrew allegations of multiple offenses on multiple occasions.
Richards, former budget analyst and interim finance director for the City of Kingman, is guilty of embezzling more than $1.1 million dollars from July 2007 through November 2015.
She controlled in excess of $100,000 in U.S. currency that was the property of the City of Kingman with intent to defraud the city, according to the charges read by Sipe.
Specific to each count, Schwartz said Richards used the city's credit card to pay for personal expenses.
Again, she controlled property of the city, specifically U.S. currency in excess of $100,000, and she transferred money from a J.P. Morgan Chase account with the intent of depriving the city, Schwartz said.
Investigators from the AG's office found that Richards misused the city's credit card to pay for her cellphone, utility and car insurance payments. The card was also used to pay cash advances at Laughlin casinos.
She stole the money by altering access settings and giving herself sole authority to both initiate and approve transactions. She was arrested in 2015 and is free on her own recognizance.
More like this story
SUBMIT FEEDBACK
Click Below to: