A Wish Comes True: Nathan Calderon, 6, gets sworn in as an officer with the Kingman Police Department
By
Aaron Ricca
|
ARicca2
Originally Published: August 27, 2017 6 a.m.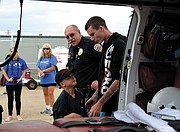 Words can't express how a lucky little boy felt while being a Kingman Police officer for a day.
Nathan Calderon, 6, has been fascinated with police officers for years and his biggest wish is to be a Kingman Police Officer. Nathan also suffers from a life-threatening neurological disorder that leads to occasional seizures, and with the help of Make-A-Wish Arizona, KPD and a local McDonald's, the boys wish was granted Thursday.
Nathan's mother, Crystal Page, and stepfather, Jerad Halstien, applied to Make-A-Wish Arizona about three weeks ago. Calderon's neurologist gave the OK, and after some last minute arrangements (the family is moving to Kentucky next week), it was on.

"His mother wanted to be a cop and his grandmother was an officer with the Los Angeles Police Department," Halstien said. "Ever since he was little, he wanted to be a cop."
Police Chief Bob Devries said in a statement that Nathan's wish was to "wear a uniform, drive fast in cars and ride in a helicopter. It would be cool to fly so the bad guys can't see me and I just catch them."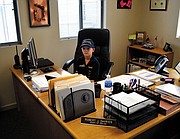 KPD pulled its resources together and Lt. Bob Fisk took the lead in making the wish come true. Calderon was treated to a TriState Careflight. Fisk initially talked with Arizona Department of Public Safety to arrange a flight on their Ranger helicopter, but it was pulling security detail in Phoenix for President Donald Trump's Tuesday campaign visit. He reached out to Tristate through one of his daughter's contacts and made the flight happen.
"I started pulling some strings and got it all together," Fisk said.
Calderon's day started at the Tristate terminal at the Kingman Airport. The boy was already dressed in a police uniform and was pinned with pilot's wings on the spot by Chief DeVries.
"If you're going to be a pilot, you got to have wings," he said.
Calderon was a bit apprehensive at first site of the chopper and learning he would be going up without his stepfather, but pilot Bubba Madrano made the father/son duo happen. He took them for a 15-minute flight over town for a bird's-eye view of Kingman landmarks, including their house and Calderon's school, Cerbat Elementary.
"He was a little scared when we took off," said Flight Paramedic James Morgan. "He started to lighten up a bit when he saw the school."
Next up was a ride into town in a police cruiser with Fisk. On the way, Calderon gave the order to fire up the lights and sirens. Upon arrival at KPD headquarters on Andy Devine Avenue, Calderon was sworn in by Chief DeVries as an honorary KPD officer. He even got a real badge – none of the plastic kiddie stuff they give away at the fair.
The family was then given a tour through the KPD station, met detectives and stepped into the department's MRAP. Everyone gathered outside as Officer Chaz Truver gave Calderon a short ride through the parking lot on a motorbike where he pulled over and ticketed Neighborhood Service Officer Sam Kurtze for "speeding."
"Tell him to slow down," Fisk said after Calderon handed Kurtze the ticket.
"And don't forget to say 'Have a nice day,'" Truver told the boy.
"Have a nice day," Calderon timidly told Kurtz.
After the tour, it was off to McDonald's on Andy Devine Avenue. The boy flew into a flurry of excitement when he learned it was going to be a McDonald's lunch – it's his favorite restaurant. Calderon was greeted by Grimace and the Hamburglar as well as a restaurant full of smiling staff and stunned travelers.
It was a busy day for the boy, and when the Daily Miner contacted the family to see how he was doing later that afternoon, Calderon was still running at full speed. He'd gotten the badge, patches and a hat from KPD, a shirt and hat from Tristate Careflight and a ton of toys as part of his Chicken McNugget Happy Meal at McDonald's.
"He's loving it," Halstien said. "He's playing with everything right now. He's excited he got to do this. It made him the happiest boy in the world."
The mother was grateful.
"I'd like to thank KPD, Make-A-Wish and the McDonald's on Andy Devine for making this happen," Page said. "It made his day."
Wish Manager Jennifer Rosvall, a Wish Mom herself, was nearly in tears as she watched the boy ride on the motorbike. Her son, Brandon, went through the Make-A-Wish experience in 2003. Make-A-Wish started in 1980 when a 7-year-old boy named Chris Greicius, who was dying from leukemia, yearned to be a police officer. Tommy Austin, Make-A-Wish co-founder and retired U.S. Customs agent got to work and made the boy's wish come true. Greicius got to hang out with DPS troopers for a day, experiencing much of what Calderon sampled on Thursday.
"It's come full circle," Rosvall said. "This just makes me melt,"
Rosvall has been with Make-A-Wish since 2011.
"We try not to focus on the illness," she said. "It's about the community who comes together to make the wish happen."
Rosvall said these experiences give kids hope and help them comply with their treatment, much of which can be mentally and physically draining and sometimes just outright terrifying.
"The wishes are good medicine," she said. "(Calderon) is having a good day and he's having fun."
Halstien could see the difference.
"It's livened up his life," the dad said. "He's a lot happier."
It's probably safe to say everyone involved enjoyed the experience.
"Everybody just came together to make this happen," Fisk said. "This is the part of cop work that is very rewarding."
More like this story
SUBMIT FEEDBACK
Click Below to: