The Andy Awards: 40 Years of Kingman's Influential Individuals
For 40 years, Kingman's Andy Awards recognize contributions to the community
Originally Published: August 29, 2017 6 a.m.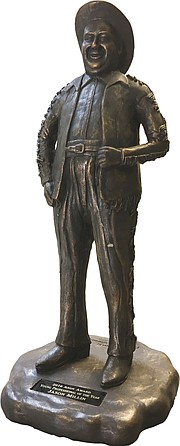 The Andy Awards categories
KINGMAN – The Andy Devine Awards dinner is scheduled for 6 p.m. Sept. 18 at Beale Celebrations. Tickets are $25.
Categories for Andy Awards are:
• Citizen of the Year. Open to any Kingman resident who has made a major contribution of time and energy toward improving our local quality of life.
• Student of the Year. Open to any Kingman student (elementary through college) whose efforts have made a positive impact on our community and who sets an exemplary role model for others.
• Educator of the Year. Open to any teacher, counselor, school administrator or member of the clergy who has established himself/herself as an outstanding role model for students and other educators.
• Organization of the Year. Open to any formally recognized nonprofit civic group that has made a concentrated effort through its nature or a specific project toward the betterment of Kingman.
• Business of the Year. Awarded to any formally recognized Kingman business that has made a deliberate and focused effort, by its nature or through a specific project, to improve our local quality of life while maintaining a rigorous standard of work excellence.
• Lifetime Achiever. Open to any Kingman resident who has dedicated his or her life, year after year, to the advancement of Kingman and its citizens.
• Most Improved Commercial Property. Open to any owner who has upgraded an existing commercial building, improving the area and increasing neighborhood property values. At least one photo must be submitted with nomination. "Before" and "After" photos are best. Does not include new construction.
• Public Service Award. Open to local government employees, fire, police, sheriff, hospitals or any industry that provides a public service.
• Chamber Member of the Year. Awarded to the Kingman Chamber member that represents and supports the Kingman Area Chamber of Commerce above and beyond the call of duty.
• Ambassador of the Year. Awarded to the Kingman Chamber Ambassador who represents and supports the Kingman Area Chamber of Commerce above and beyond the call of duty.
• Young Professional of the Year. An emerging leader and young professional, not older than 30, who exemplifies excellence, integrity and initiative.
With a road named in his honor, along with a rodeo and parade and annual community and business awards, Andy Devine will live forever as Kingman's favorite son, an actor who appeared in more than 50 western movies and was close friends with John Wayne and Jimmy Stewart.
The 2017 Andy Devine Awards, scheduled for Sept. 18 at Beale Celebrations, marks the 40th year that Kingman Area Chamber of Commerce will recognize individuals, businesses and organizations that make a significant contribution to the community.
Nominations come from the community at large, and forms can be picked up at the Chamber office, 3001 Stockton Hill Road, Suite 3, or downloaded from its web site at www.kingmanchamber.com. Deadline is Friday, Sept. 1. Tickets to the awards banquet are $25, available at the Chamber office.
"It's honestly one of my favorite things to do in the community because it recognizes people who do good things," said Becky Fawson, who joined the Chamber in 1991 when she and her husband owned Aloha Plumbing and became actively involved with the Andy Awards in 1998.
"We have lots of awesome things in Kingman that people need to know about and that's what the Andy Devine Awards are geared for. Like last year, the Venture Club doing the Splash Pad. That was really cool."
Fawson remembers a Citizen of the Year Award going to a man who restored bicycles in his garage and donated them to children who didn't have a bike "out of the goodness of his heart."
The community awards carry on the legacy of Andy Devine, who made his debut as a bit actor in the 1920s silent movies. He lived from 1905 to 1977, coming to Kingman when he was a year old.
Devine played a dim-witted man who is hanged for an accidental killing in his first western movie, "Law and Order," in 1932, and then replaced Gabby Hayes as Roy Rogers' sidekick in nine movies. He went to an illustrious TV and movie career in Hollywood.
Entries are scored by a panel of judges from outside the area, and nominations are judged solely by merit, without outside knowledge of the nominee, said Gregg Martin, president and executive officer of Kingman Area Chamber of Commerce.
Nominees are whittled down to three finalists, with the winner announced that night.
"It's a great tradition of recognizing achievement and excellence in the community," Martin said. "Last year was my first and it was amazing. If you sit and listen not only to the winners, but the nominees … there's so much good in this community, I was wondering how we're going to choose a winner."
Harley Boldwyn, a local 17-year-old artist, drew a black-and-white portrait of Devine that will be given to the winner of the Lifetime Achiever award. She's also the youngest member of the Chamber.
Fawson likes the Lifetime Achiever as the most prestigious Andy Award.
"That's somebody who continually gives," she said. "Maybe somebody does something great one year, but for example, Dr. (John) Lingenfelter, year after year he did positive things for the future."
Jason Millin, membership chairman of the Chamber, won 2016 Andy Awards for Ambassador of the Year and Young Professional of the Year, the first two-time award winner in 22 years.
"It was amazing just to be nominated," he said. "I wasn't expecting to win. I was proud to just be there and be a nominee. The second one, they had to call my name twice. I was still staring at the first one."
More like this story
SUBMIT FEEDBACK
Click Below to: