A Monument to Miners: After being torn down in the '40s, it's being replaced
By
Aaron Ricca
|
ARicca2
Originally Published: August 31, 2017 6 a.m.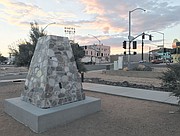 History will be remembered and preserved during this year's Andy Devine Days in a few weeks.
A new monument recognizing the historical and economic significance of mining in Mohave County will be dedicated after the Andy Devine Days Parade Sept. 23. Since 2010, Kingman's Historical Preservation Commission and the husband and wife team of C. and Nannette Russell have been working to rebuild the Miners Monument once located next to the Railroad Depot.
According to Nannette, an HPC member, the original monument was built in 1904 and stood directly on what is now Fourth Street. It was torn down at an unknown date in the 1940s and what happened to the original stones is anyone's guess. For years, concerned citizens have wanted to rebuild the monument, but it wasn't until about two years ago that a plan began to materialize.
"No one wanted to get involved," said Nannette. "C. and I got together with a couple of rock hounds and started building."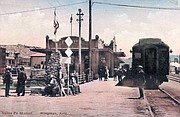 Numerous hands have gone into the project.
Bill Shilling, liaison to the HPC, brought up the possibility of rebuilding the monument and the commission decided to take it on as a commission project. His brother, who wished not to be identified, welded a frame. The Russells and their rock-collecting friends rounded up a few tons of random stones from throughout the county that include gold, silver and copper ores. Mr. Russell has spent the last few months cutting and polishing the stones which were concreted to the sides of the monument.
"I'm going to try to add some Kingman turquoise just to give it color," Russell said.
The City of Kingman Public Works Department hauled and installed the 7-foot tall, 2,000-pound obelisk-type creation atop a concrete foundation in front of the railroad depot earlier this month. The concrete foundation will eventually be covered with flagstone retrieved from the former site of the Desert Lodge Apartments on Andy Devine Avenue. Russell also built a small mining cart complete with a staff for an American flag. The cart will be placed atop the monument before the dedication ceremony.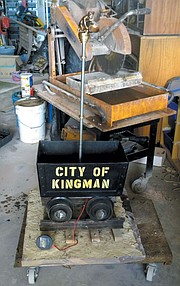 Two sealed, temperature and water-resistant time capsules will be placed inside the monument to be reopened in 2067 – 50 years from now. Shilling has spearheaded the effort and worked with other HPC volunteers who are in turn worked with the Boys and Girls Club of Kingman and local schools to find out what Kingman youth would like to see put in the capsule.
"Our thinking was that these kids might be around to open it," Shilling said.
Time capsules have already been placed in the Charles Metcalfe Monument installed in 1982 and the sundial monument in front of city hall created by the Children of Palo Christi in 1976. Both are to be opened 100 years from their respective dedication dates.
Mohave Museum of History and Arts volunteer Andy Sansom said he only knows of documents and a picture of the Metcalfe family being deposited into the Metcalfe Park capsule. A July 2001 Daily Miner article suggests letters from Palo Christi schoolchildren went into the City Hall capsule.

Barbara Charon, vice chair of the HPC and owner of The Farmhouse, said kids will always look back on current events via the internet and hopes the ones contributing to this monument will pen their memories, experiences and aspirations onto letters or postcards. They'll have a 16-inch-by-14-inch-by-6-inch box and have to keep it tight.
"It seemed more important to capture the physical memories by writing letters about their experiences," Charon said. "How fun would it be if little Johnny opens the capsule and sees the letter about how he wanted to be a firefighter or business owner?"
A larger capsule will preserve items donated by the HPC and other community representatives.
"I would like to get a photo of downtown and the people who are making downtown what it is," Charon said.
She'd also like to reach out to local decedents of the miners.
"This monument is for them," she said. "If we open it up to the legacy of the miners, I feel like that would be connecting the past to the present."
No public input is needed. HPC and others are handling what goes into the capsules. They had to be sure what goes in will last 50 years.
"There's a science to it," Shilling said.
There can't be anything organic. Certain types of paper and ink deteriorate over time. Anything with batteries is a definite no-no. The capsules are temperature-resistant up to 250 degrees, which the inside of the Miner's Monument could easily reach in the summer.
"We thought about putting a thumb drive in there," Shilling said. "But in 50 years, no one will know how to use it."
Shilling will design a plaque with an old photo and brief history of the original monument etched into granite. It will also be engraved with a QR code to be scanned with a smartphone, providing a more in depth history of the monument including names of those contributing to its creation.
The QR code idea might catch on. The HPC is the steward of the city's properties listed on the National Register of Historic Places. The idea to put the scanable block-codes on some of those properties might take off depending on how locals and tourists take to the Miner's Monument.
"It took a while to get this off the ground," Shilling said. "It's a work in progress."

More like this story
SUBMIT FEEDBACK
Click Below to: