I-11 project brought to Governor Ducey's office
Originally Published: December 4, 2017 5:59 a.m.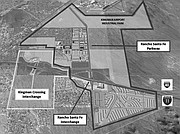 KINGMAN – A delegation of City Council members, department heads and state representatives presented a report on the proposed I-11 East Kingman Connection Project to staff from Gov. Doug Ducey's office on Nov. 27.
The one-hour PowerPoint presentation gave details on the project and what the city is requesting from the state of Arizona, which is at least $20 million in ADOT funding.
The original intent of the meeting was to meet personally with the governor, but that wasn't possible.
Those in attendance included Kingman City Council members Jen Miles, David Wayt and Travis Lingenfelter; state Rep. Gina Cobb, R-Kingman; state Sen. Sonny Borrelli, R-Lake Havasu City; U.S. Rep. Paul Gosar, R-Prescott; Sara Murley of Applied Economics; and John Timko, representing Las Vegas-based Sunbelt Development.
"We were able to speak with several of his chief staff members and they were very receptive," Cobb told the Daily Miner. "And I personally have follow-up meetings as well as a meeting with Gov. Ducey at his request, in which I will reinforce the city's position."
No further steps were identified at the Nov. 27 meeting.
The proposed I-11 project includes the Rancho Santa Fe Parkway and Kingman Crossing interchanges off Interstate 40, which have been debated for several months among interested parties, including KRMC.
The interchanges are important to meeting mobility and safety needs of the public and for the economic growth and health of the region, the Kingman delegation told the governor's staff.
"The City of Kingman is an important regional center for northwestern Arizona and is a hub of transportation, commerce and government administration," the report said.
"These interchanges will not only increase access, mobility, public safety and reduce travel times between areas north and south of I-40, but will also open up the Kingman Crossing and Rancho Santa Fe Parkway areas for significant future economic development."
The amount of freight passing through and traveling within the I-11 corridor is projected to increase by more than 50 percent by 2040.
Projected development within the "area of influence" for the proposed interchanges could more than triple employment in Kingman at buildout.
Financing sources for the proposed project are a critical component.
Estimated total cost for the project is $85.2 million, including $52.7 million for Rancho Santa Fe Parkway and $32.5 million for Kingman Crossing.
The City of Kingman has dedicated a half-cent sales tax that will be used to secure and cover debt service on a 30-year bond. It has $4.4 million in budgeted funds, plus $60.8 million from the local sales tax and bond, for a total of $65.2 million.
That leaves $20 million for the ADOT funding request, or roughly 23 percent of the project cost.
In return for this $20 million investment, the state could gain nearly $260 million in one-time construction sales tax and $37.7 million in annual retail sales tax revenue by buildout, Kingman officials said.
Jen Miles said the presentation went well, and she commended both Cobb and Borrelli for advocating on Kingman's behalf. She also thanked Supervisors Jean Bishop and Gary Watson for letters of support.
"I believe we provided compelling reasons for the state to partner with us to advance the economic prosperity of our region and Arizona," Miles said. "(Monday's) presentation laid the foundation for the continuing dialogue as we seek the state's fiscal commitment of approximately $20 million."
More like this story
SUBMIT FEEDBACK
Click Below to: