One inmate dead in jail assault
Jail assault turns fatal
Brandon Messick, For the Miner
Originally Published: December 4, 2017 5:51 p.m.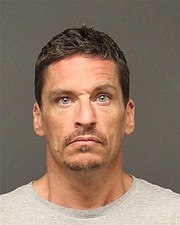 KINGMAN — An inmate at Mohave County Jail is dead this week after an alleged Nov. 20 assault by his cellmate.
Gaven T. Robel, of Needles, California, was arrested after allegedly assaulting his cellmate, Ryan W. Couch, 39, of Kingman on Nov. 20. Couch was flown to University Medical Center in Las Vegas for emergency medical treatment due to injuries sustained during the alleged assault. Couch died as a result of those injuries on Dec. 3, according to the Mohave County Sheriff's Office.
Couch was incarcerated since Nov. 2 on charges of probation violation. Robel was arrested Nov. 15 for outstanding warrants involving fraud, forgery, fraudulent schemes and artifices and acquisition of a narcotic drug, according to the Mohave County Sheriff's Department. Robel was allegedly arrested as part of a joint law enforcement investigation in connection to an alleged opioid ring, which will be prosecuted by the Arizona Attorney General's Office.
According to the Sheriff's Office, the assault happened while Couch's and Robel's shared cell was locked. The assault was brought to correction officers' by other inmates within their section of the Mohave County Jail facility, but correction officers were unable to reach the cell in order to prevent the assault from escalating to serious injury.
"These incidents aren't as common as you would think," said Mohave County Sheriff Doug Schuster on Monday. "But (the jail) is a closed space, and these people are locked in with each other. With some of the personalities involved, there tends to be conflict, and it's something we tend to look out for. Even still, sometimes assaults occur."
According to Schuster, the Sheriff's Office has been planning to modify procedures at Mohave County Jail to better ensure the safety of inmates and corrections staff. "Sometimes it can be very simple things that set individuals off in those conditions," Schuster said. "I commend my staff, they acted in accordance with what they were supposed to do in that situation…it was just an awful incident. Anytime there's a loss of life, there's a tragedy. We're looking to do some policy changes, and fix some parts of our old policies."
Schuster said such policy changes are not a direct result of Robel's alleged assault or Couch's death, but may have been due to a shortage in staffing, and additional regulations that may be needed to ensure staff and inmate safety in the future.
Couch and Robel were cellmates for less than five days before the fatal assault. Robel was on Nov. 21 arraigned on charges of attempted second degree murder and aggravated assault in reference to the incident.
According to the Sheriff's Office, Robel is being prosecuted by the Arizona Attorney General's Office under his original charges, and the assault incident was referred to the Attorney General's Office for further prosecution.
According to a Monday press release from the Mohave County Sheriff's Department, it is likely that charges against Robel will be upgraded to include homicide.
The Arizona Attorney General's Office could not be reached for comment as of Monday evening.
Robel's alleged assault and possible homicide charges remain under investigation.
More like this story
SUBMIT FEEDBACK
Click Below to: