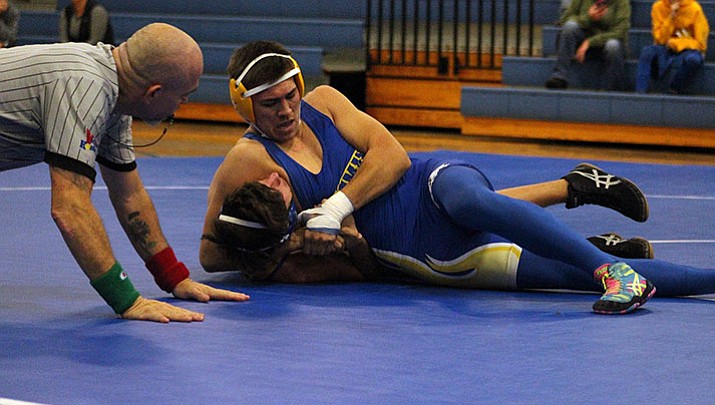 Photo by Beau Bearden.
Originally Published: December 14, 2017 9 p.m.
KINGMAN – Kalani Levrets spent countless hours working his way back to wrestling shape after injuring his wrist during football season. All the time spent in the practice room paid off for the Kingman High School wrestler as he won his 160-pound bout Wednesday to help lead the Bulldogs to a 42-36 win over Buckeye.
"It feels great," Levrets said. "It took a few weeks for me to get cleared by a doctor. I've been doing a lot of strengthening, conditioning and working hard in the room."
Jason Sorensen also won his 220-pound match with a second-round pin that guaranteed Kingman would get the team victory.
"It means a lot actually," Sorenson said. "This is my first year wrestling, so it feels good to advance my record positively."
Sorenson isn't a stranger to the physical sport of wrestling though, as he used to do Mixed Martial Arts. That experience has paid off for him and he believes he has a shot at earning a college scholarship.
The rest of the Bulldogs were looking forward to getting more time on the mat, but Cactus couldn't make the trip due to their bus breaking down.
"I was hoping for two matches for our tri-meet, but one of the teams couldn't make it," Sorenson said. "But I got the win, so I'm happy."
Kingman wrestling coach Brandon Clor was also disappointed that Cactus wasn't in attendance, but he was glad to see two Bulldogs tally victories.
"It was big for Kalani to get a win right away before a big tournament this weekend," Clor said. "Jason is coming into his own as a nice quality wrestler. … We're where we want to be for this early in the season. We're going to start working towards that time in February where we want to be successful."
The Bulldogs are back in action this weekend at the Window Rock Invite.
"I'm going to keep the hard work going, keep the tempo up and continue working harder," Levrets said.