A truce in the 'War on Christmas'?
Republicans, Democrats more or less on same page about Christmas, survey says
Originally Published: December 14, 2017 5:54 a.m.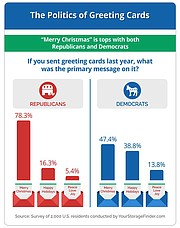 In the last decade, holiday greetings have become a politically charged issue.
Depending on your political views, wishing someone a "Merry Christmas" is either a defiant stand against political correctness or a culturally insensitive remark that marginalizes segments of the U.S. population.
On the other hand, saying "Happy Holidays" has been characterized as either a thoughtful multicultural gesture or a liberal assault on Christianity.
Debate over the so-called "War on Christmas" began on talk radio in 2005 and quickly grew into an annual media event.
The energy behind the discussion was then recharged by President Donald Trump, who has vowed repeatedly that under his administration, "We are going to say 'Merry Christmas' again."
Most Americans, however, appear to be on the same page when it comes to Christmas, according to a recent study by the online self-storage directory, Your Storage Finder.
About 2,000 U.S. residents were surveyed from across the country. Many holiday preferences for the right and the left were determined, but perhaps the most telling was that "Merry Christmas" isn't going anywhere, dominating the holiday greeting scene at 60.4 percent of all cards sent.
Information provided by Your Storage Finder
More like this story
SUBMIT FEEDBACK
Click Below to:
This Week's Circulars
To view money-saving ads
For as little as $3.49*