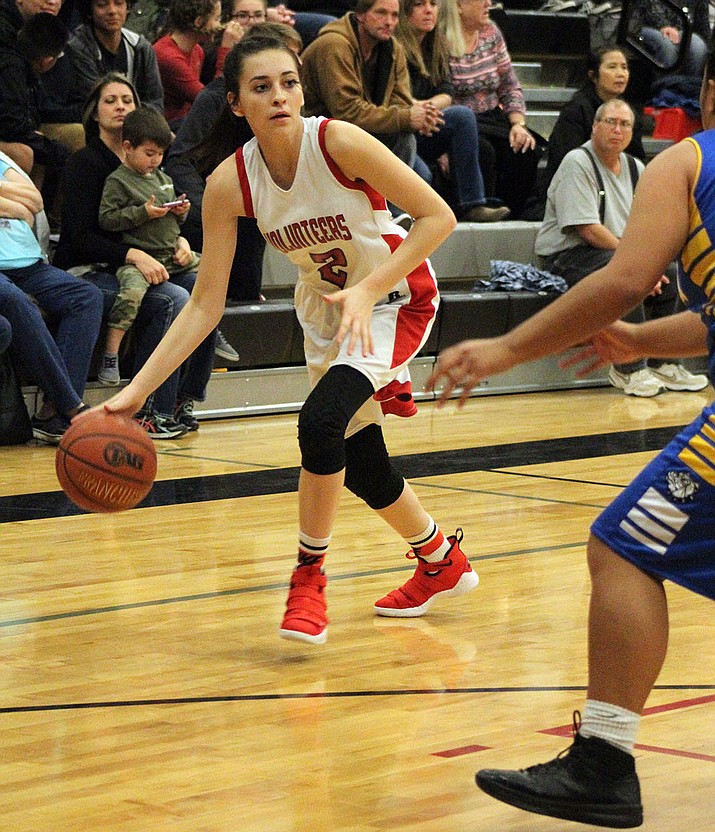 Photo by Beau Bearden.
Originally Published: December 16, 2017 4:40 p.m.
KINGMAN – The Lee Williams girls basketball team quickly saw that Kingman High meant business Friday night. The Lady Bulldogs jumped out to an early lead, but the Lady Vols recovered to get a 59-44 victory over their rivals at LWHS.
"The win is definitely exciting," said Lee Williams' Hayle Davis.
Davis led the Lady Vols with a game-high 17 points, including 10 in the first half. Ellie Thomas joined Davis in double figures with 13 points, while Kaylee Bond scored eight and Sadie Snay chipped in seven points.
However, it was the offense that made the difference for Lee Williams.
"Our defense definitely picked up at the end," Davis said. "We were aggressive, we rebounded the ball and our intensity went up in the second half."
Even Lady Vols head coach Jerry Arave agreed that the "constant defensive pressure" is a strength of the team and makes up for the turnovers on offense.
Lee Williams was without two key players though, as Madison Arave (broken finger) and Cassidy Torrey (sick) didn't see action. That resulted in some adjustments by coach Arave.
"I'm running out of guards," he said. "So we had to juggle people around, but they adjusted pretty well to positions they don't normally play."
Kingman still tested the Lady Vols' defense, especially from long range. The Lady Bulldogs sank seven treys, highlighted by three each from Kearra Tauta and Sukwana Quasula.
"We were focusing on Kearra, but Sukwana came out and made some bombs," coach Arave said. "At the end there we had to go man-to-man to make sure we had a hand in her face. Give Kingman credit – they came out hard and they wanted to win."
Quasula led Kingman with 10 points each, while Payton Chamberlain and Tauta tallied nine apiece. Courtney Mossor and Tarase Marshall each added eight points to round out the scoring.
The Lady Bulldogs didn't have any of their bench players score though, compared to Lee Williams getting points from three role players.
"Their bench just outnumbered us as far as the competition level," said Kingman head coach Tony Kern. "We had more mistakes. But I thought we played hard. We had a lot of fight."
The Lady Bulldogs (3-3) are back in action at 4:30 p.m. Monday with a road contest at Bagdad (2-4) while the Lady Vols (4-4) are idle until Dec. 29 for the Prescott Winter Classic.