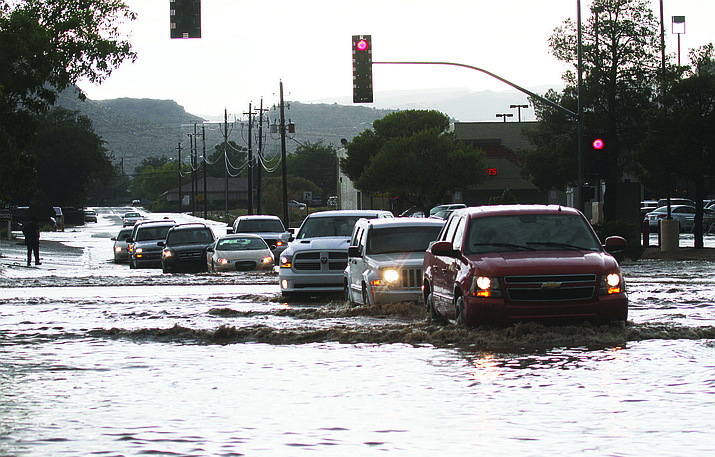 Originally Published: December 19, 2017 6 a.m.
The City Council meeting is 5:30 p.m. at the County Administration Building, 700 W. Beale St.
1. Road improvements
Road improvements are in the consent agenda. Sycamore Avenue between Western Avenue and Stockton Hill Road is set to be approved for approximately $750,000 worth of work on storm drain and street improvement to help alleviate the significant storm runoff that bogs down Stockton Hill Road during heavy rains. Council is also expected to approve a nearly $258,000 improvement project on Gates and Golden Gate avenues just east of Stockton Hill Road to include storm drain and street improvements.
2. Approving Ordinance No. 1846
City staff is recommending approval of Ordinance No. 1846. This ordinance has the objective of improving the "process by which City Council schedules and considers agenda items." The ordinance would put a "Work Session" at the front of Council meetings, which provides a way for Council to segment the overall agenda. Provides a schedule of future work session topics, clarify Council members' ability to add agenda items, and have a six-month calendar of future work session topics.
3. Accepting grant
Also on the consent agenda, city staff recommends Council to accept a grant $128,912 from the University of Baltimore for Combating Opioid Overdose through Community-level Intervention Initiative (COOCLI).
4. Workshops with city commissions
Staff has compiled three options for Council to consider for an "Annual Workshop" between Council members and the city commissions. The options include a combined workshop to include everyone on Council and the commissions to select goals for the upcoming year, a combined workshop with Council giving the commissions its goals, or have the commission determine goals and the chair and vice chair of each commission report goals to Council.
5. Other items of interest
Other items of interest are the 2018 Operating Agreement for the Kingman Railroad Museum with no changes from 2017, approving the 2018 Budget Calendar, and Council is being requested by City Attorney Carl Cooper to go into executive session to discuss the litigation against Kingman Airport Authority.