Congressman Gosar helps pay tribute to a veteran
AARON RICCA, Special For The Daily Miner
Originally Published: December 20, 2017 6 a.m.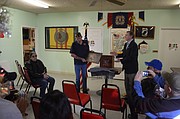 KINGMAN – Congressman Paul Gosar helped pay tribute to a Vietnam War veteran Friday.
He stopped by the Veterans of Foreign War post 10386 to deliver a headstone for U.S. Marine Corps Sgt. Leroy Allen Heffelfinger, who passed away in 2011.
With no family to take care of arrangements entitled to deceased veterans, a friend of Heffelfinger took charge. Due to Department of Veterans Affairs rules that prohibit non-related peoples from assisting with burial rites, the friend contacted Gosar's office. After three years of administrative wrangling, Gosar was able to order the headstone.

Gosar presented the headstone to VFW Post 10386 Commander Rick Mills. Heffelfinger's friend was listening to the short ceremony via speakerphone.
A Kingman Patriot Guard Rider flag line greeted Gosar at the VFW and stayed to honor Heffelfinger.
Also in attendance were Mayor Monica Gates and members of the Jerry Ambrose Veterans Council.
More like this story
SUBMIT FEEDBACK
Click Below to: