Golden Valley and Kingman Cactus Cleaners are making progress helping the desert reclaim its beauty
Originally Published: December 20, 2017 6 a.m.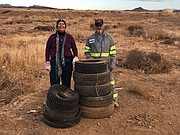 Finding trash dumped in the desert around Golden Valley and Kingman is becoming more and more difficult because of one fateful day during the late summer of 2014.
Wayne Hollins had just moved to Golden Valley for retirement and made the decision to haul his own trash to Mohave County Landfill. He put 12 bags of his own trash in a trailer hooked up to his truck and headed toward the dump.
"We picked up trash on the way," Hollins said. "The trailer was full and my open truck was full before we got there. We took it to the dump. It wasn't a plan. I just saw stuff and thought, 'That's bad.'"
After meetings with Mohave County Supervisor Jean Bishop, Environmental Rural Area Cleanup Enforcement (ERACE) coordinator Det. Todd Davison, and then organizing his thoughts, he formed Golden Valley Cactus Cleaners group.
Since the group's first cleanup operation in April 2015, the Cactus Cleaners have hauled 210,895 pounds of trash, 8,226 tires, and 25 boats out of the desert surrounding Golden Valley.
"We try to come out and do at least a couple cleanups a month," Hollins said. "It's made a difference. It's hard to do a cleanup with 10, 12 people and four trailers because we only have spots of trash now."
Kingman Cactus Cleaners
Hollins and his group from Golden Valley have spawned a spinoff. The Kingman Cactus Cleaners have recently been formed by Paul Ming and Jeanne Kroutil.
"I followed Wayne for a year and kept asking if a Kingman group could be formed," Kroutil said. "We went out with Wayne once to see if it could be done, and yes, it could."
KCC hauled out 3,370 pounds of trash from the desert north of Kingman by the end of its first cleanup operation. Kroutil came to Kingman for retirement after living in New Jersey and was appalled with what she saw after one of her first trips into the desert in her side-by-side.
"My boyfriend and I rode out and were disgusted with how much trash is out here," she said. "There are bags of garbage that are just dumped out."
Kroutil is all-in making certain the Kingman Cactus Cleaners stick around and continue to clean up the city. She realizes it takes work to get people out to the desert to pick up the trash and that it takes work to get people to stay. Hollins and Koutril both say there is something for everyone to do despite any physical limitations people may have. That could be driving a truck for pickups and hauling, holding a bag open for someone else to put trash in, or making phone calls to recruit people for a cleanup.
"I'm a firm believer in 'Many hands make light work,'" Koutril said. "Whatever little I can do to help the desert reclaim its glorious status, I'm willing to do it."
Proactive instead of reactive
Both groups are doing an amazing job fighting to keep the desert clean for Golden Valley and Kingman, but those are reactive approaches. It is all they can do.
Mohave County and the City of Kingman are joining the fight as well. The county has added two more officers to its ERACE team, tripling the number of enforcers from one to three. Kingman has a pilot program retrieving recyclables from residences rather than making citizens drive to drop-off locations.
"It's a nationwide problem," said Mohave County Supervisor Jean Bishop. "It's not only Mohave County and Golden Valley, but society today. We have asked our ERACE to tighten the program and be more aggressive in law enforcement. We want to see more people held accountable."
That's where Det. Todd Davison enters the picture. He is the coordinator for the ERACE program and works closely with the Cactus Cleaners.
"We've noticed that if litter stays in an area, more trash will come in," Davison said. "They help clean those areas up, and that sets up new investigations due to fresh tire tracks and trash. The more they help with cleanup, the less we have to, and we can focus on arrests."
Whereas it's easy to see that dumping furniture, appliances, and filled trash bags are environmental crimes, there is dumping going on that people may not realize is against the law.
"We are finding yard waste," Davison said. "That is illegal dumping. If you don't want it in your yard, it's a crime to put in on someone else's property."
The detective said there are always going to be criminals who illegally dump. He arrested one person for dumping used motor oil when any business that sells motor oil will allow dumping for free. Illegal dumping will never be completely eradicated, but things are getting better here at home.
"It's going to continue to get better with rewards, more signage, the sheriff's posse unit is starting to help, volunteers are helping, and we're getting more devices to monitor the desert," Davison said. "We are seeing a lot less."
Mohave County offers a $500 reward for information leading to the conviction of illegal dumping.
Kingman Cactus Cleaners are hosting a cleanup at 9 a.m. Thursday on Bank Street north of Northern Avenue. Staging will be where the pavement ends and the street becomes dirt.
Both groups can be found on Facebook.
More like this story
SUBMIT FEEDBACK
Click Below to:
This Week's Circulars
To view money-saving ads
For as little as $3.49*