Prep Soccer: Vols cruise to 10-2 win over Bulldogs

Originally Published: December 20, 2017 3:07 p.m.
KINGMAN – The Lee Williams High School boys soccer team held a four-goal advantage at halftime Tuesday night against Kingman High. While the Vols were in good shape, head coach Gabe Otero wanted them to play differently in the second half.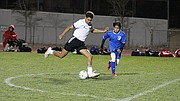 "I told them, 'We're not playing Kingman High right now. We're playing how we're going to start our first half against Flagstaff in two weeks,'" Otero said. "That was the motivation going into the second half. I needed them to play at the tempo they're going to play against a talented team. Hopefully that carries through."
The halftime speech definitely paid off as Lee Williams outscored Kingman by a 6-2 margin in the second half to cruise to a 10-2 win at LWHS – the Vols' second victory over their rivals this season.
"The win definitely shows where we're at as a team this year compared to last year," said Lee Williams' Colby Robles. "It gives us the motivation that we need to jump back in after the break."
Robles showed just how much motivation he had to find the back of the net against the Bulldogs. He scored his third goal of the game to give the Vols a 7-2 advantage late in the second half.
He wasn't the only Volunteer to tally a hat trick though, as senior Aiden Cordes tallied his third goal of the game on Jose Urtiz's assist with 9:30 remaining for an 8-2 advantage.
"We're growing as a team," Cordes said. "It might not be the fastest growth, but we are. It shows how much we've accomplished, how we're growing and how we're working better as a team."
While Lee Williams is coming together as a team, the Bulldogs are struggling to put varsity players on the field. That didn't stop Kingman from putting up a fight against the Vols in the first half, but couldn't keep up the battle.
"We've been sound in the first half and then in the second half, we just sort of let down," said Bulldogs head coach Kevin Roberts.
However, the early playing time for the young Kingman players should pay dividends down the stretch.
"A lot of the young and inexperienced players that are stepping up to the varsity level for the first time are really starting to understand how to play physical," Roberts said. "We had a chance to play physical today. We made the adjustment at halftime and they started to play physical."
Christian Lizardi gave the Bulldogs their first goal of the game at the 28:16 mark of the second half and then Alex Cardenas later scored to cut the deficit to 6-2. That was as close as Kingman (0-6) could get as the Vols (2-4) scored four straight to end the game.
In addition to Robles and Cordes tallying hat tricks, Gabriel Otero, Jason Arreola, Leonardo Leon and Marco Castaneda each tallied a goal for Lee Williams.
The Vols are back in action Jan. 4 with their 4A Grand Canyon Region opener at Flagstaff (3-1-1), while the Bulldogs travel to Mohave Wednesday night and then welcome River Valley (2-1) to town for a 3A Region 6 contest on Jan. 10.
"We're getting ready for our conference games in January," Robles said. "We have to keep the tempo up so we don't go into games slow."
Girls Soccer
Lee Williams 4, Kingman 0
At KHS, the Lee Williams High School girls soccer team defeated the Lady Bulldogs 4-0 Tuesday night.
The Lady Vols (3-3) host Flagstaff (5-0) on Jan. 4, while Kingman (0-6) travels to River Valley (0-1-2) on Jan. 10.
More like this story
SUBMIT FEEDBACK
Click Below to:
This Week's Circulars
To view money-saving ads
For as little as $3.49*