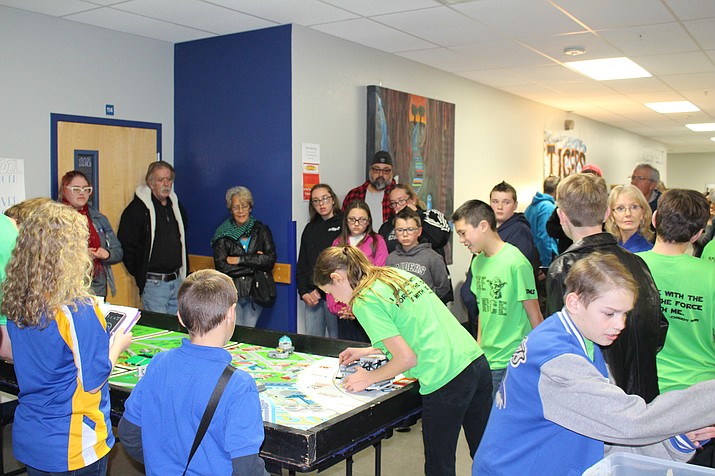 Photo by Hubble Ray Smith.
Originally Published: December 26, 2017 6 a.m.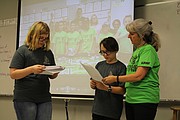 It's mostly fun and games for the First Lego League teams at Kingman Academy Middle School, but it also teaches kids how to work together and come up with alternative solutions.
Celeste Lucier, mentor and advisor for Kingman Academy's First Lego League Team 3862, showed off her students' work during an open house at the school last week in advance of the FLL state championship Jan. 13-14 at Arizona State University.
She took two Academy FLL teams to Flagstaff for the northern Arizona qualifying tournament on Dec. 9. The veteran team, The Force, won the Robot Design Award and qualified for state.
The rookie team, ETF, or Engineering the Future, had a respectable showing and actually scored some points in the robot game, Lucier noted.
"We want to show the community what they learned and this will also prepare them for the state tournament," she said.
Parents, friends and others attending the open house, including City Councilwoman Vickie Kress, were impressed with not only the kids' knowledge and research into their projects, but their courteous behavior and communication skills.
"Some kid turned around and said 'hello' to me, and kids don't do that today, they just don't," Kress said.
The open house started with a short video that featured students talking about their experience with Kingman Academy's Lego league team and how it ties in with STEM (Science, Technology, Engineering and Math) education.
One girl described her participation in robotics as "a roadmap to an engineering degree" and "a rope to pull you out of poverty."
"It's all about building character in kids and giving them the tools to be successful," Lucier said. "It's team building, learning to work with others."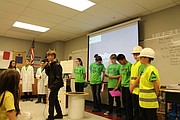 The Force put on a skit that explained their innovative new design for manhole covers to alleviate excessive runoff from rainfall into the city of Kingman's wastewater treatment system.
It was practice for the real performance at the state championship, and students took questions from the audience afterwards, as they'll be responding to judges' questions at the competition.
Margret Scholl, an eighth-grader in her third year on The Force, helped design the manhole cover for the First Lego League season project, which is hydrodynamics.
"We went on a tour with the superintendent of the wastewater treatment plant, and he told us about the problem when rainwater gets in the sewer system," Scholl said. "It overloads the system."
If the city has to discharge untreated wastewater into the wash, it has to be reported to Arizona Department of Environmental Quality, which could result in a fine, the middle schooler noted.
Scholl explained how her team came up with a solution of stretching a balloon across a metal grating in the center of the manhole cover that would keep the water out, but still release gases that can accumulate and explode.
During their research for the project, The Force discovered that the number of people who die from water contamination is equal to one-third the population of Chicago; manhole covers are painted in Japan and have their own trading cards; and Kingman takes 6,000 acre-feet of water each year from the aquifer, but only 2,000 acre-feet enter the aquifer.
Lucier said the FLL competition at state will be intense, and the students come up with some great ideas.
"When you see so many solutions … wow, I didn't think about that," the teacher said. "You get kids from Israel, Palestine, Germany, all over the world, and they're into it. That's their passion."
She said the team was extremely excited to work together, and wants to improve from last year and become better at other parts of the First Lego League.
Councilwoman Kress said the team's presentation skills for the water treatment project were excellent, and she wants to put it on the city's Jan. 2 meeting agenda.
Team 3862 needs sponsors and mentors, and anyone looking to help in fields such as mechanical design, engineering and programming is encouraged to contact Lucier at 928-692-5265 or clucier@kaolaz.org.
The team needs $400 to $500 a year to register and compete in First Lego League, not including travel expenses and supplies.
Tax credits for donations up to $200 for individuals and $400 for married filing jointly can be claimed on personal income tax returns.