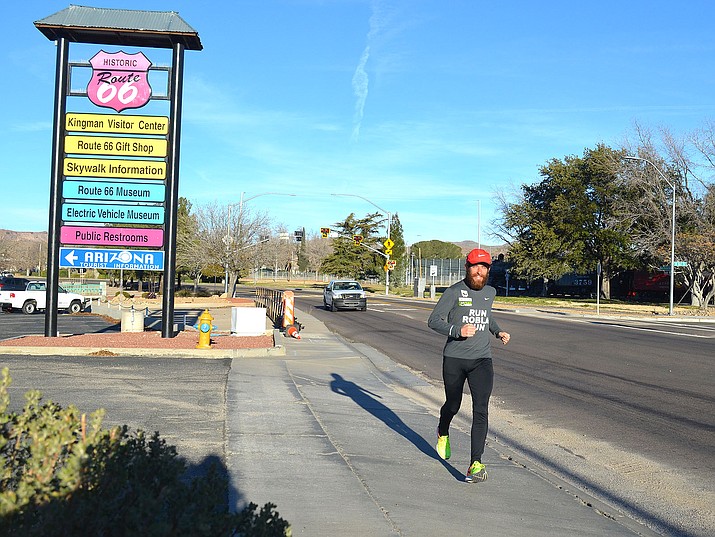 Photo by Aaron Ricca.

Originally Published: February 1, 2017 6:01 a.m.
KINGMAN – Honk if you see him, or join if you want.
Marathon runner Rob Pope, 38, of Liverpool, England, is making a trek across America – Forrest Gump-style. He's a few months into the second leg of a cross-country run mimicking the same jog actor Tom Hanks' fictional character took in the 1994 Oscar-winning movie.
He's attempting to be the first person to recreate the entire Gump run, crossing the United States at least four times and covering more than 15,000 miles. He averages roughly 35 miles a day and started for a few reasons.
"The classic answer is 'I just felt like running,'" he said.
Pope picked a few charities to aid. He'd like to see the World Wildlife Fund save more animals Peace Direct continue to try to peacefully resolve conflicts.
Pope and his girlfriend, Nadine, are also in it for the American experience. She follows along in a 2004 Ford Jamboree RV named appropriately – Jenny. The RV is their home and she's his primary support during the run.
"She's my driver, cook,
and psychologist," Pope said. "She's everything."
They camp out at RV parks and have parked overnight at truck stops.
"We're trying to keep costs down," he said.
He started the first leg of the run in Mobile, Alabama, Sept. 15, and arrived in Santa Monica, California, on Nov. 30. Like Gump, Pope took a look at the ocean (a bit extended), turned around, and began the next leg that led through Death Valley, over the Hoover Dam and to Kingman, all with the ultimate goal of reaching the Marshall Point Lighthouse in Maine, hopefully in early May.
Pope has no plans to venture through Flagstaff at the moment, opting for a warmer southern Arizona detour.
"I can handle the cold, just not the brutal cold," he said.

He does know how to handle the public.
"Pretty much everywhere you go someone says, 'Run Forrest Run'," Pope said, to which he'll gladly wave back. "You should see the look on their faces when they see me doing it."
He's passed some exotic roadkill to include plenty of possums and even a few alligators. The couple saw snow in Death Valley and were blown away by the Saguaro cactuses fingering the sky from the desert landscape.
Pope and Nadine were at a bar in Tombstone the night of the presidential election.
"The bartender bought everyone a shot when he knew (Trump) pulled it off," he said.
Pope was dressed in more cold weather appropriate running gear Tuesday morning.
His Gump getup – which included the tan pants and button-up shirt – was awaiting laundry day during the Kingman visit.
The original Nike running shoes were on standby and his sweat-stained Bubba Gump Shrimp Company ball cap was waiting for warmer days. He hasn't shaved since he started the run.
Pope, 38, is now the same age actor Tom Hanks was when the film was released.
"It's complete coincidence, not by design," he said.

The couple is funding this escapade out of their own pockets. Pope is hoping a corporate sponsor joins the dash.
As of Tuesday, he was ready to green light a GoFundMe page to both help pick up the travel tab and donate to charities.

"The more chance it has for spiraling into something bigger," he said.
Right now, his only followers are on the internet but he encourages the company.

"We want to get as many people (as possible) following us on social media," he said.
"They can run or bike with me. Any encouragement helps."
Follow Pope in person or online at the Run Robla Run Facebook page or event website at www.goingthedistancerun.com