Photo by JT Keith.
Originally Published: February 1, 2017 6 a.m.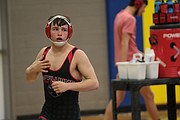 KINGMAN – Lee Williams' senior wrestler Nic Verville's single purpose this season is to win a state championship. He suffered his first loss of the season in a meet on Jan 11. Verville wanted to challenge himself so he moved up in weight class to 138 pounds from his normal 132 to challenge Dysart's Daniel Rios, who was also undefeated.
"Their 138-pounder (Rios) was undefeated," Verville said. "I liked that thrill of two undefeated wrestlers going. I wanted a good match and I had a good match. I felt those extra six pounds he had on me after the third period. He beat me by one point, but I came off that mat a five times better wrestler and I realized what I needed to do before state."
In an all-or-nothing year for him, Verville wants to push himself and his opponents to the brink every day. He wants no slip-ups or upsets at state, and if he is going to lose he wants it to be before the state meet.
He is also keenly aware of the fact no wrestler in Kingman has won a state championship since 1983, and that was in the heavyweight division.
Verville rises at 4:30 a.m. to head to the gym and work out for three hours before he heads home to eat breakfast before going to school. Then he will go to wrestling practice for two to three hours of practice. He will grab some dinner and head back to the gym at 8 p.m., to get in some extra cardio and wrestling. He will keep this pace up even on days he has a match.
Verville knows what it feels like to make it to state and not place as he did at 120 pounds his freshman year. Or in his sophomore and junior year when he finished third at 126.
"He has a work ethic like no other," Lee Williams coach Dan Ondrejka said. "He is truly dedicated to this sport and has one goal in mind, winning a state title. It has been a rewarding experience watching Nic grow over the years as a wrestler and as a leader in the room."
Verville's memories of matches have driven him for the last two years to be the best in the 132- pound division and the best that he can be. There is no doubt in his mind he will win at state this year. He won't utter those words or entertain a second-place finish.
"Win the state championship." Verville said. "That is all that's on my mind. It's all that's been on my mind the last four years, and this is the year that I make it happen. I'm trying to put everything into winning state."
Verville has credited coach Ondrejka for showing him one of his finishing moves called "knee pick" which he uses on high level competition. Most of his wrestling is based on quickness and technique.
Vervill said that going to a wrestling tournament this summer called "Freak Show Nationals" changed his attitude toward wrestling and his opponents. Instead of trying to dog them with an icy stare or get inside of their heads, he goes into a match relaxed and loose.
"Everything I do is for state," Verville said. "There is no, 'if I don't make it.' I'm winning state."