Kingman Crossing facing funding mystery
Originally Published: February 3, 2017 6:03 a.m.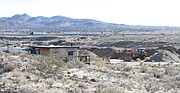 KINGMAN –The purpose of Tuesday's special City Council meeting was to provide specifics about potential options for funding the Kingman Crossing project, but nothing of substance materialized from the hour-long discussion.
What came out of the meeting was unanimous agreement that Kingman needs to boost its economy, and building an interchange on Interstate 40 for the Kingman Crossing development is key to that growth.
"There looks like a lot of opportunity here," said Leo Valdez, senior vice president and manager of Hutchinson, Shockey, Erley & Co., a Phoenix-based investment banking firm hired to explore funding options for the interchange.
"There are some financing issues. It affects a lot of people. It's costly to put in a crossing. You really need a buy-in from all parties that will benefit. Nobody wants to pay for everything," Valdez said.
Nobody had an estimate on how much the interchange would cost, let alone how to pay for it. Kingman doesn't have a property tax, relying mostly on sales tax revenue.
"We're not here to make recommendations," said Mike Hark, another senior vice president for Hutchinson, Shockey, Erley. "We're on a fact-finding mission to understand who the beneficiaries are and then come back with the best option."
Bill Lenhart, managing member of Las Vegas-based Sunbelt Development and Realty Partners, said he wanted to "expand the conversation" to include Rancho Santa Fe Parkway, or the Rattlesnake Wash interchange that was once part of ADOT's five-year plan.
Lenhart made it clear that his company controls nearly 1,000 acres in the area, and that he would be a willing participant in a plan to finance the Rancho Santa Fe interchange.
The master plan for the land would include about 1,300 residential homes, light industrial and neighborhood commercial.
"We think growth should pay for growth," Lenhart said. "The barrier to development here is infrastructure."
Sunbelt had numbers. Consultant Carter Frolick, speaking by phone, said a community facilities district would be formed to issue bonds to finance infrastructure, including the interchange, at an estimated $90 million to $120 million over time.
Alvin Stump, northwest district manager for Arizona Department of Transportation, made it clear that ADOT is still interested in building an interchange at Rattlesnake Wash, but funding is a challenge.
"Kingman Crossing is more of a local project," he said. "There's definitely a possibility with Rancho Santa Fe."
Councilman Travis Lingenfelter said he would love to continue the conversation with Sunbelt, but Mayor Monica Gates said the election in November clearly showed that people support Kingman Crossing.
Doug Dickmeyer, a citizen attending the meeting, said the mayor was slightly misleading with her comment. The citizens of Kingman approved an initiative to sell city-owned land for Kingman Crossing at fair market value, not construction of the interchange, he noted.
Many other citizens feel that if the city continues to pursue Kingman Crossing, it will miss an opportunity that may not come around for another decade or more, he said.
Kingman City Manager John Dougherty said Sunbelt's incentive in getting an interchange at Rancho Santa Fe is quite apparent and should be expected. The city is not opposed to it; the money just isn't there.
"I am aware that several people have their own opinions, but here is a fact that too many misguided people are missing: We don't have a property tax," Dougherty said.
"We get a majority of our operating funds from sales tax, so if we don't have more revenue, we can't afford to assist with Rattlesnake Wash. The state won't pay for it and we can't pay for it, so how is it going to happen?"
Councilwoman Jen Miles said she would like to see both interchanges, but wants to get more information, "real names and numbers."
"Let's get all that information, other than to say, 'Yay, it all sounds good.'" Miles said. "I'm not ready to put out a request for qualifications until I have a better understanding of what we're asking for, more definition."
Related Stories
More like this story
SUBMIT FEEDBACK
Click Below to: