Photo by JT Keith.
Originally Published: February 5, 2017 6 a.m.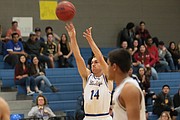 KINGMAN – He was mugged, assaulted and violated.
Kingman basketball senior Anthony Pinto was left with his shooting limbs impaired, yet no foul was called. This did not happen on the good streets of Kingman. No, this happened on Senior Night at Kingman High School, on the basketball court in the lane with less than 50 seconds to play.
There are people in county jail right now serving time for less than what the River Valley basketball team did to Pinto.
Pinto was all but unstoppable inside the paint on the offensive end of the floor. Pinto would catch the ball down low and just go straight up and score or grab a rebound off a missed shot by a teammate and put the ball back up overpowering the Dust Devil defense for 36 points Friday night in a 76-73 loss.
"This season has been the most fun," Pinto said. "I wish it would have turned out a bit different."
"Who doesn't have trouble stopping him?" River Valley coach Lucus Lechman said. "I don't have anybody who can stop him. We just tried to limit his touches. We hung on to win a nail-biter at the end."
In a night filled with emotion, Kingman said goodbye to their seniors (Jonathan Hunt, Jordan Dupee, Anthony Giles, and Pinto), started them and promptly fell behind 12-1. Dust Devils junior Nick Saucedo hit four 3-pointers in a row as the Bulldogs could not stop him. River Valley scored 33 points in the first quarter, and at one point, the Bulldogs were down by 20 points.
"No I don't regret starting all the seniors," Kingman coach Nick Juby said. "When I first got here, those four seniors (Hunt, Dupee, Giles, and Pinto) were the guys I saw in the gym along with Tobias (Bagby) and Elijah (Howery) on a daily basis. I try to reward loyalty like that. Those guys have been ride or die since I got here."
Once the Bulldogs calmed down and switched their defense to a box-and-1 against the hot outside shooting of River Valley, they managed to hold them to five points in the second quarter. Dupee and Jayzon Hundley managed to hit key 3-point shots along with Pinto to close the gap to 38-36 at halftime.
The Bulldogs fought back in the third quarter to take a 58-52 lead. Kingman got to the free-throw line 36 times but missed 18 of them. In the fourth quarter, both teams traded the lead back in forth until Kingman took the lead 70-68 with 3:09 left in the game.
During the last 189 seconds, which seemed to last a lifetime, the Bulldogs went cold from the field for over a minute to fall behind 74-70. Kingman's Dupee hit a 3-pointer from the right side of the arc with 1:15 left and then both teams felt the pressure of the moment and missed free throws, as the game turned into a foul-shooting contest.
The referee's put 3.5 seconds on the clock for the Bulldogs to have a shot on the side of their basket and a chance to tie. The shot was off and the Dust Devils escaped with a victory on Senior Night. Kingman had two players foul out in Bagby and Howery with over three minutes left in the game, which made Juby play players who have not seen much action this season.
"To be honest with you," Lechman said. "I told our players to foul the ball because they needed to shoot 3s. Our players tried to foul, but they (referees) didn't call it."
"I couldn't be more pleased with this group of guys. They have given me everything they have." Juby said. "They have turned this program into something to be respected in Mohave County, and that's special. That's a big deal. I told them, thank you for letting me be their coach, and how much they have impacted my life. I have nothing but appreciation for those guys."
Kingman (8-18, 3-6 3A West Region) plays one more game, traveling to Odyssey for a 7:00 p.m. tip Wednesday.
Parker 74, Kingman Academy 72
At Parker, Kingman Academy could not contain the hot shooting of Parker's junior Jose Cabrera, who hit three 3-pointers and scored a team high 19 points. He had help from Jon Page and Josh Golding as they scored 13 and 12 points respectively while upsetting the No. 1 team in the region, Kingman Academy 74-72, Friday night.
Tigers guard David Larrabee scored 35 points. Senior Cade Martin added 17, Tyler Chinyere chipped in six, Kannon Bulter, Stevie Wusstig, and Logan Day each contributed four, and Donny Tatham tallied one.
Kingman Academy's (12-7, 9-1 2A West Region) regular season is finished and will await an opponent in the 2A tournament.
Lee Williams 56, Mingus 51
At Lee Williams, playing in front of a raucous crowd for Senior Night, the Volunteers did not fail to deliver. Playing their best basketball in the last five games, Lee Williams defeated Mingus Union 56-51 Friday night.
The Vols were led in scoring by Marco Narvarte, who had 22 points and seven rebounds.
"Sophomore Sniper" A.J. Hererra added eight points and Esteban Luna chipped in with six.
Lee Williams is 12-13 overall and 4-8 in 4A Grand Region play this season.
"If we play the way we can play," Lee Williams coach Cain Atkinson said. "We can beat anybody."