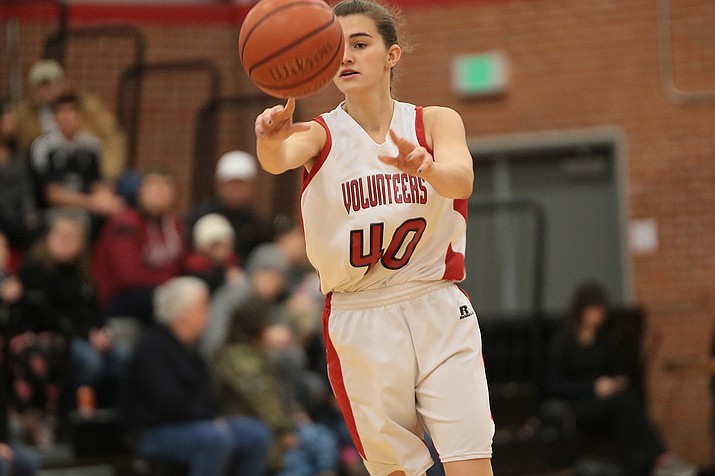 Photo by JT Keith.
Originally Published: February 5, 2017 6 a.m.
KINGMAN – On senior night, the Lee Williams Lady Volunteers said goodbye to Madison McGlathery, Kristen Finch, Siava Allen, and Mya Radler. They also played without three starters due to illness and injury, including floor general Madison Arave.
This 43-38 win will go down in Lady Volunteer's basketball history, as they had to overcome a 17-point deficit in the second half and turnovers to beat Mingus in the Grand Canyon Region game.
Center Chania Scott scored seven points in the third quarter, and Sadie Snay hit a 3-pointer late to cut Mingus Union's lead to eight points.
"We kept getting in our own way," Lady Vols coach Jerry Arave said. "It wasn't like they were mounting a ton of pressure defensively. We were just giving the game away."

With under three minutes remaining in the game, Snay hit another key 3-pointer to tie the game. After another Mingus turnover, junior Simari Satoafiaga got a huge offensive rebound and quickly scored putting the Vols ahead by two.
The Lady Vols continued the full court defensive pressure in the fourth quarter forcing Mingus into multiple mistakes.
"When we finally made some shots, we were able to get into our press and score easy baskets," Arave said.
Lee Williams' recovered the ball on another Mingus turnover, and began to work. Mingus was forced to foul in order to stop the clock, and they picked the wrong person. Simari Satoafiage went to the free-throw line twice and hit four consecutive free-throws to put the game away.
Chania Scott lead the Lady Vols with 15 points. Snay added 10, Satofiage put in six, Haylee Davis and Madison McGlathery each had five, and Kaylee Bond tallied two.
The Lady Vols finished the regular season 9-8, 5-7 and look to be the No.4 seed in the Grand Canyon Region Tournament in Flagstaff on Monday. The tournament winner will head to the state tournament.
Parker 45, Kingman Academy 43
Friday night the Parker Broncs avenged an earlier loss to the Lady Tigers, knocking them out of a play-in game. Parker grabs the second-place bid from the 2A West Region, as foul-plagued Kingman Academy came up short, 45-43.
The Lady Tigers were led in scoring by Chloe Elliott, who scored nine points. Amberlee Steed and Canya Thompson each had eight, Ashlee Steed added seven, Kiersten Edwards put in six, Kassidy Campbell tallied three, and Faith Edwards knocked down two.
Kingman Academy finished 6-12 and 6-4 in 2A West Region play.
"We had foul trouble throughout the game, and that hurt us," Tigers coach Garth Steed said. "Fun game, great group of girls."
River Valley 53, Kingman 23
At Kingman, there's an old adage that says, "The bigger they are, the harder they fall." That wasn't true for the Kingman Lady Bulldogs, who didn't have any answers for the Dust Devil's 6-foot, 5-inch senior Krista Jackman.
Jackman is headed to UNLV on a basketball scholarship, and she had her way with the smaller Lady Bulldogs. She scored 30 points on put backs and easy two-foot bunnies at the basket. River Valley rolled to a 53-23 win over Kingman on its Senior Night.
The Lady Bulldogs were led in scoring by Kearra Tauta with seven points, and Kyla Silas added six. Christina Thames played an awesome game against Jackman and more than held her own, blocking Jackman's shot twice. Thames chipped in with four points, Maggie Watahomigie and Kayina Tauta each put in two, and Courtney Mossor and Cheri Roundy each scored one."
Kingman (8-13, 4-5 3A West Region) ends its regular season against Odyssey at 5:30 p.m. Wednesday in Buckeye.
"We are going for the win," Kingman coach Tony Kern said. "Everyone is going to play in the last game of the season. It has been a rebuilding year, so it has been a success in that term. We had good looks but the shots didn't fall."