Originally Published: February 6, 2017 6 a.m.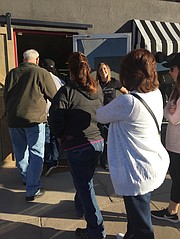 The Farmhouse vintage household and décor shop held the grand opening of its new location at 317 Beale Street on Saturday.
The Farmhouse moved from its tiny Fourth Street store and by doing so increased in size tenfold.
Owner Barb Charon opened the cramped 400-square-foot store roughly a year ago.
The locally created arts and crafts she sells are now displayed in a 4,000-square-foot remodeled downtown storefront.