Originally Published: February 10, 2017 7:55 p.m.
Updated as of Saturday, February 11, 2017 5:06 PM
PRESCOTT VALLEY - He did it, he did it, he did it. Lee Williams senior Nic Verville looked exhausted as the referee raised his hand. After shaking hands with his battered and defeated opponent, Joe Herrera of Yuma, Verville sprinted to his corner, propelled his 132-pound body into the giant arms of coach Dan Ondrejka, and hugged him with sheer joy.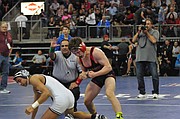 As the two hugged, all Ondrejka could say to Verville was, "I'm so proud of you, I'm so proud of you. You earned it and deserve it."
"This is huge for Kingman wrestling," Ondrejka said. "It's huge for Lee Williams as a program, and it's huge for Kingman. I'm speechless. I think I was more nervous than he was. When he walked onto that mat it filled me with pride and joy. I'm proud of Nic and everything we've accomplished this year."
Verville beat Herrera in dominating fashion, 11-2, just like the last time they wrestled two weeks ago when Verville beat him thoroughly. In the state championship match, Herrera made the first offensive move right off the bat and scored the first takedown on Verville, putting a little fear in him. Hererra spent the time between their matches studying tapes of Verville and how to wrestle him.
"After the first takedown, I said to myself 'this is it, pick it up,'" Verville said. "I trusted the process and believed in myself. I came out with what I wanted."
Both Verville and coach Ondrejka believe the key to the wrestling team's success has been assistant coach Ray Sanchez whose knowledge has helped every wrestler on the team.
"I told him before he went onto the mat, it's your time," Ondrejka said. "I said, you've worked for this and trained for this, let's do it."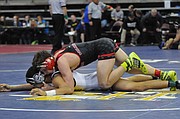 Verville has been single-minded in chasing his dream for five years, putting everything he has into winning this state championship on Friday night. Verville lived through the disappointment as a freshman of not placing at 126 pounds. In his sophomore and junior years, he stood on the podium to accept third place at 132 pounds.
Verville felt emotionally, mentally and spiritually ready for Friday night. Yes, Verville was right, it was a triple threat Friday. The moon, comet and solar eclipse lined up for him.
"Everything I went through has been worth it," Verville said. "All the blood, pain, tears, everything was worth it. There was no possibility of me losing. I just trusted the process and believing in myself. I set the bar for Lee Williams."
Victor Martel of Kingman was the last wrestling heavyweight champion in 1983. Verville is the first wrestler in Kingman to win in the 132-pound weight class.
Verville, for the foreseeable future, will now be the answer to the trivia question as to who was the last Kingman-area wrestler to win a state championship.
Nic Verville's sole mission this season was to dominate the 132-pound weight division. Friday night as he jumped in coach Ondrejka's arms a champion.
Mission accomplished.
7:55 p.m., Feb. 10
Lee Williams' Nic Verville beats Yuma's Joe Herrerra 11-2 in 132-pound AIA Division III championship match. It is the city's first wrestling champion in 34 years when Victor Martel won the heavyweight title for Kingman High School in 1983.
More details and photos to follow.
Related Stories