Joshua Tree Massacre: Trees cleared north of Kingman
By
Aaron Ricca
|
ARicca2
Originally Published: February 12, 2017 6:05 a.m.
KINGMAN – At least two county residents are aware of what they call a massacre of Joshua Trees north of Kingman.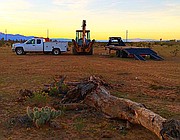 Pete Golden posted numerous photos of downed plants on the All Things Meadview Facebook page. His caption read:
"Recently … In the last couple of years or so, just miles South of the Grand Canyon Nat. Park, 6000 acres of picturesque old undisturbed ranch land, with ancient water rich aquifers beneath them, was purchased by a(n) out of state large and powerful agricultural consortium. Residing on portions of this land, along with other fascinating forms of flora, fauna and geology, are ancient and critically endangered stands of Joshua Trees. As one can see in these photos, the ag [sic] cartel has no intention of preserving these wonders. The land is to be scraped clean."
More new pictures of the Joshua Tree massacre were on the web blog www.highdesertdirt.com.
"Here are some new pictures of the Joshua Tree massacre on Pierce Ferry and Greggs Hideout (Antares on the other side of Pierce Ferry.) They're done drilling the new well," the site reads.

Yucca resident Jan (Yohn) Emming, came across Golden's pictures of the devastation when he saw them on the Mohave County Arizona's Water Crisis Facebook page.
He said the 200-300 acre clearance is on the north side of Pierce Ferry Road at Greggs Hideout Road and restricted to that parcel of land. He's talked to other environmental activists and feels that there's something fishy in the air. He's trying to find a way to help stop the clearing.
He said the first clearing was done in October and this latest one was last week, and that there is heavy construction equipment at the site. He doesn't know who owns the parcel but feels the farms need to find another place to do agriculture.
"I just happen to care about the forest," he said. "I decided I had to start doing something."
More like this story
SUBMIT FEEDBACK
Click Below to: