Originally Published: February 12, 2017 5:59 a.m.
Flagstaff – With 51 seconds left in the game, Lee Williams' players stood on the court realizing their season was over. For the seniors, their careers were over. In an up-and-down season that saw the Vols win their first five games and then go into a midseason funk and lose the next five, resurrect themselves and win the next four out of five, a Cinderella run to the state tournament ended.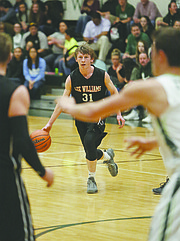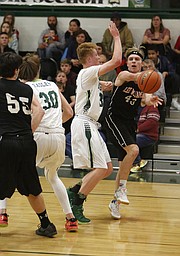 The run in the tournament began by winning two games and playing their best basketball of the season until they ran into region regular season champ, Flagstaff. As the Eagles took out their starters, it was apparent the game was over and that Flagstaff would be moving on to state with a 62-51 win Friday night.
"Flagstaff is a very good team," Vols coach Cain Atkinson said. "Very physical team."
Lee Williams came out in the first quarter and matched the intensity of the Eagles, playing even with them to an 11-11 tie to end the first quarter.
Flagstaff dominated the offensive board in the second quarter, but struggled to turn it into points, barely leading at 22-18 in the middle of the second period.
Lee Williams had problems stopping Jahmir White as he put up seven points in the second period for Flagstaff off the bench. K.P. Kortsen and Brandon Tiffany each added eight.
Flagstaff went on a12-2 run right before half and took control of the quarter and game with that scoring outburst, as they went to halftime ahead 35-25. Half of Lee Williams' points in the first half came off 3s.
Lee Williams went cold from the field and didn't hit a 3-pointer in the third quarter after hitting four in the first half.
"Guys played really hard," Atkinson said. "I'm happy with how we played and how we competed.

Lee Williams' made a push to save their season, but the Eagles answered to end the Vols season.
Lee Williams was led in scoring by Marco Narvarte, as he had 13 points and grabbed eight boards. Diego Narvarte chipped in with 10 points and four rebounds, and Esteban Luna put in 10 points.
"Very proud of my guys," Atkinson said. "They came a long way this season."
Related Stories