Obamacare: Whatever happens, the local economy will be impacted.
Originally Published: February 16, 2017 6 a.m.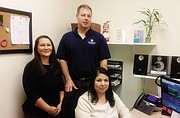 Nobody knows what's going to happen now that President Donald Trump signed an executive order to repeal the Affordable Care Act without a replacement plan.
Ultimately, it could leave some 30 million Americans without medical insurance coverage.
Republican lawmakers repeatedly tried to overturn the ACA, known as Obamacare, when it was passed in 2010. Now they're facing a major split that threatens to stall Trump's effort to repeal the law.
Brian Turney, chief executive officer of Kingman Regional Medical Center, said he's "very concerned" about how the repeal is going to affect the community.
A lot of people in Kingman would lose coverage, and KRMC would take a huge hit to its bottom line due to higher levels of uncompensated care, the hospital's CEO said.
That's why KRMC, along with the American Hospital Association, is taking the position that repeal of the ACA should be accompanied by replacement, or at least restoration, of the cuts to providers that were used to fund the ACA.
"Hopefully, our nation's leaders will be thoughtful, look at the big picture and craft legislation that will create incentives for both providers and users of our healthcare system that wisely leverage our healthcare resources," Turney said.
"Our biggest fear is that they will rush to make changes because of political expediency, pass the buck onto states, providers or individuals, and feel like they have fixed the problem."
Coverage options
Byron Lewis, health benefits navigator for North Country Health Care, is helping people in Mohave County explore their options, which include AHCCCS, Medicare, KidsCare and a sliding-fee scale.
"If the Affordable Care Act is repealed, a number of our patients could lose their insurance if there is not a plan for replacement," Lewis said. "We do not know the fate of the Affordable Care Act, but our goal is to continue to provide quality healthcare for our patients, regardless of the outcome," he said.
Although Trump signed the executive order to repeal and replace the Affordable Care Act, many details are unknown, said Jeff Stelnik, senior vice president of Blue Cross Blue Shield of Arizona.
"Until we better understand how the regulations will change, our current individual and family plans will remain the same," Stelnik said. "Once we have more information, we will be able to determine what, if any, changes are needed to our current and future offerings."
Mohave County's only insurance carrier under Obamacare, Blue Cross Blue Shield has made it a priority to make sure the transition to a better health care system is smooth, with minimal disruption to clients, he said. They'll still have access to their choice of health plans and doctors.
"We are working with federal and state lawmakers to ensure that an alternative solution leads to a competitive, private health insurance market that works for Arizonans, giving them peace of mind at a price they can afford," Stelnik said.
Reduced payments
Turney hopes any replacement plan for Obamacare restores Medicare payments to hospitals and healthcare providers.
Projected Medicare payment cuts to KRMC from 2010-2026 as a result of the ACA and other regulatory changes are estimated to average $9 million a year.
That's on top of the $3.5 million KRMC pays to Arizona to help fund ACA Medicaid expansion.
It was presumed that hospitals would make up for cuts in payments by having less charity care and bad debt because more people would have insurance coverage, Turney said.
KRMC's financial health is critical to the community, the hospital executive said.
"Our ability to grow and add services impacts everyone's quality of life and the ability to attract future residents and business to the community," he said. "We can't grow and improve properly without adequate resources."
Over the past 10 years, KRMC has added 800 new jobs to the Kingman economy.
Dr. Ryan Swapp, a pathologist who's worked four years at KRMC, said Obamacare was written for rural geographic areas such as Mohave County where residents have difficulty finding access to health care and insurance.
He sees the possible repeal of Obamacare as a "mixed bag."
"I would say our hospital has benefitted from Obamacare. More people are covered," Swapp said. "Many private insurers have fled the market and that's caused an increase in both premiums and deductibles."
"It's unfortunate that we'll likely never know what the true effect of Obamacare would be in the long term if it's repealed. Nobody has a crystal ball right now."
Short-term plans
Consumers who missed open enrollment for Obamacare can still get covered with short-term medical plans, which can run from a month to a year, Stelnik of Blue Cross Blue Shield said.
Demand for short-term plans increased 20 percent in 2016, he noted.
While the plan doesn't meet minimum coverage requirements under the ACA, it protects consumers against unforeseen medical expenses such as accidents or hospitalization, as long as it's not from a pre-existing condition. The average cost of a three-day hospital stay is $30,000, according to HealthCare.gov.
Applicants can sign up for individual and family coverage with plans starting the next day, Stelnik said. It's a great option for those who are in between jobs or waiting for their group coverage to start, he added.
However, shoppers should keep in mind that after March 31, 2017, new regulations take place and short-term coverage will only be available for up to three months.
SUBMIT FEEDBACK
Click Below to:
More like this story