Using hypnosis to help treat myriad health issues
Originally Published: February 20, 2017 6:04 a.m.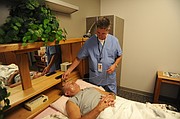 Mark Hopkins can't hypnotize you into taking off your clothes or acting like a fool – that comes naturally for some of us – but he can sure put you to sleep.
That's his job as clinical supervisor at Kingman Regional Medical Center's Sleep Disorders Center, which expanded in January to six beds at the Hualapai Mountain Campus.
Hopkins and Dr. Haven Malish, medical director for the center, are exploring an alternative therapy for sleep apnea, which occurs when a person's breathing is interrupted during sleep, using self-hypnosis techniques.
It's called CPAP, or continuous positive airway pressure, and it requires a mask to be worn over your nose at night.
"A lot of people have difficulty getting used to that on their face," Hopkins said at the sleep center, which opened in 2013 with four beds at KRMC. "They're uncomfortable, claustrophobic. I divert their attention from that and make them feel more comfortable."
Hypnosis is a small part of the procedure, but it's highly beneficial in helping patients overcome negative feelings and anxiety about sleep disorder treatment, Hopkins said.
He's reporting a 92 percent success rate in getting people to sleep within five minutes through "progressive relaxation induction." Most of the center's patients are in the 45-60 age bracket, and 20 percent are men.
Clinical hypnotherapy such as that offered at KRMC's sleep center is used to treat a variety of disorders and phobias, including weight control, smoking, anxiety and insomnia.
KRMC was doing about two or three procedures a month in 2013. Now it's up to 12 to 16 a month.
"It's really picking up," said Malish, who came to the center four years ago. "One is awareness. Two, we've become the standard of excellence in the region. It's sink or swim. Smaller labs shut down for whatever reason. It's just a market of quality."
Altered state
Hypnosis is a natural, yet altered state of mind that allows a filtering component in the brain called the critical factor to relax, said Hopkins, who wrote an article for the January edition of Sleep Review magazine.
The practice dates back thousands of years and is most commonly used for pain control.
"It is not mystical, supernatural or based on an individual's beliefs, despite what popular culture often depicts," said Hopkins, who attended the Hypnotherapy Academy of America in Albuquerque, New Mexico. "Individuals cannot be made to act or speak against their will."
Hopkins teaches patients how to hypnotize themselves by understanding the three levels of consciousness:
• Conscious mind: This is the "autopilot" state of mind where we act upon programmed behavior, beliefs and experiences. Pavlov called this the level of consciousness that automatically does the work "behind the scenes."
• Subconscious mind: Freud explored this level deeply. It's who you are and what makes up your personality. It guides the autonomic nervous system, which is divided into the sympathetic nervous system and parasympathetic nervous system.
• Super conscious mind: Now you've reached your "universal mind," or higher self, where you find love, happiness, peace, forgiveness, healing and grace.
"These levels have no rigid boundaries and can mix or blend into one another," Hopkins said. "In many trance states, the patient is sometimes more alert than when they are awake, and often actively involved with a two-way dialogue with the facilitator."
While he doesn't have solid statistics, Hopkins said self-hypnosis has helped thousands of people break bad habits where other treatments have failed.
Overcoming sleep apnea helps open airways and gets oxygen into the blood, which normalizes hormones, strengthens the immune system and reduces risk of developing diabetes and heart problems, Hopkins said.
"If you don't get good sleep, you don't have sufficient energy, you're fatigued in the daytime," he said. "Lack of concentration, irritability. A good night's rest is as important as good exercise and good nutrition."
The KRMC Sleep Center, on the third floor of the Hualapai Mountain Campus, is holding an open house from 4-6 p.m. March 29 for anyone who wants to tour the new facilities.
More like this story
SUBMIT FEEDBACK
Click Below to: