High school archers spend time on the hunt

Originally Published: February 21, 2017 6 a.m.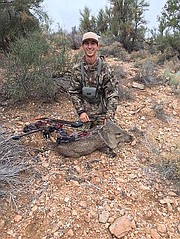 In the past few weeks we've read about several young men in our community who, with the help of some dedicated family members, have had some exciting hunting adventures in the great outdoors.
Today's story is about two teenagers in our community who share their passion of the outdoors and are committed to helping each other on their archery hunts.
Tanner Ragan is 17 years old and a senior at the Kingman Academy of Learning. He has been hunting with his grandfather, Rod Ward, since he was 4 years old.
He bagged his first big game animal, a javelina, when he was just 10 years old, and then two weeks later bagged his first deer with his bow and arrow.
Kadence Sterling is 16 years old and a junior at Lee Williams High School.
She bagged her first big game animal on an archery hunt with friend Tad Levandowski a few years ago. She has also been drawn for an antlerless elk and bull elk tags.
Kadence and Tanner have been dating for 10 months now and are deeply committed to each other.
They share things that normal high school kids do, but they also share their hunting adventures.
In November, Kadence took her first mule deer on the opening day of the general rifle hunt in Unit 16A. Tanner was with her when she got that buck.
Tanner is very proficient with a bow and arrow. He has taken a bull elk in the past with his bow, and in January 2016, while hunting with his grandfather, he bagged a javelina. Two weeks later he bagged a 5x3 mule deer. Both were taken with a bow and arrow.
In 2017, Tanner and Kadence drew archery javelina tags, and they both bought over-the-counter archery deer tags.
Last month, Tanner bagged a beautiful bobcat that his grandfather had spotted. This was the first spotted cat Tanner has ever got. He is having a rug made out of the hide.
Things were kind of slow for the young hunters during the first week of the 2017 deer and javelina season. They saw deer and a few javelinas but didn't get any shots.
Kadence finally got a shot at a buck at 47 yards, but missed. She kept on hunting with Tanner and more deer were seen. Kadence was able to bag her first archery mule deer, a 2x2 at a range of 70 yards. And the young hunter insisted on field dressing her buck by herself.
Five days into the archery season was when Tanner got a chance at a herd of javelina. He made the most of it, bagging a mature pig at 50 yards.
The next day they spotted a group of deer that included a good 3x3 buck.
Tanner could get no closer than 90 yards, a range that he practices at all the time, took aim and let the deadly broadhead fly.
The shot was right on and the buck ran just a short distance before expiring.
I should note here that Tanner shoots an Obsession bow, which is set at 73 pounds draw.
He shoots Easton Aftermath carbon arrows topped with a 100-grain Muzzy Trokar broadhead.
Tanner estimates he shoots 500 arrows a month at ranges from 30 to 110 yards. He has participated in long range bow shoots where he has shot targets out to 140 yards.
With three big game animals down, Kadence only had to fill her javelina tag.
The following week the hunters came back out and saw bucks and a herd of about 15 pigs.
Kadence got to within 12 yards and released the deadly Easton Aftermath arrow topped with an 85-grain Slick Trick broadhead.
The shot was right on and the porker ran just 20 yards before expiring.
Kadence shoots a Hoyt compound bow set at 53 pounds draw.
Both of the bucks were taken to local taxidermist Clayton Holloway, who is doing European mounts on them.
It was a great month for the young Kingman archers. Both had been successful on their javelina hunts and both bagged mule deer.
For these young archers, it just doesn't get any better than that.
More like this story
SUBMIT FEEDBACK
Click Below to:
This Week's Circulars
To view money-saving ads
For as little as $3.49*