Homeless population holds steady in Kingman, Bullhead; spikes in Lake Havasu City
Originally Published: February 21, 2017 6:04 a.m.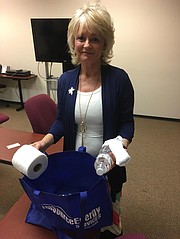 A major segment of the homeless population in Mohave County struggles with mental illness, alcoholism and drug addictions.
Others have been evicted from their home, can't find a job, have bad credit and no source of income.
These are a few of the barriers keeping 235 people homeless in Mohave County in 2017, compared with 210 the previous year, according to the "Point in Time" survey conducted by Mohave County Community Services Department.
A little over one-fourth (26.4 percent) of the homeless population are veterans, roughly the same percentage as a year ago.
The breakdown shows 89 homeless people in Kingman, 92 in Bullhead City and 54 in Lake Havasu City, including 62 veterans.
Dave Wolf, director of community services, said the Point in Time homeless count was taken on Jan. 24 and is required by any participating HUD-funded program.
"We work with agencies throughout the county to fulfill the requirement," he said. "It's important because HUD funds those programs based on needs."
More than 40 volunteers from Mohave County Continuum of Care helped collect information in the three largest cities.
Agencies participating in the count included Cornerstone Mission, Catholic Charities, Western Arizona Council of Governments, Interagency of Lake Havasu, Jerry Ambrose Veterans Council, Northern Arizona VA, Veterans Resource Center and Arizona Youth Partnership.
Needs
Assessment
The survey started in 2000 and has expanded over the years to better assess homeless needs. It now consists of eight pages, digging into background information and current living status.
Homeless people are asked to volunteer information such as their name (or initials if they don't want to give their name), age, gender, where they spent the night, how long they've been in Arizona, how long they've been homeless, how did they become displaced, medical conditions, substance abuse, military service, sources of income, racial and ethnic background, and if they have anyone else living with them.
They had to at least give their initials to complete the survey, Wolf noted.
He said the three most common reasons people become homeless are economic (loss of job, eviction, foreclosure); medical (alcohol and drug abuse, physical and mental disabilities); and domestic or personal problems (family dispute, fire, family member passed away, legal issues).
"Serious mental illness and substance abuse. Most of them fall into that," Wolf said.
Some people choose to be homeless as their "lifestyle," he added, while others are "precariously housed," couch-surfing with friends, living in their car or staying at a shelter.
Of Kingman's 89 homeless, there were 69 men and 20 women, and the largest number (29) was in the 55-64 age group. Roughly one-third of them said they were homeless because of substance abuse or mental or physical issues.
Steady Count
The homeless count has been pretty consistent over the last few years, ranging from 210 to 254, said Jennifer Burch, program coordinator for Mohave County Community Services. Many factors can determine fluctuation in the number of homeless people, she said.
"The weather … last year was wet and cold. If it's cold and raining, they're not moving around," she said. "It hasn't change a lot, but that could be for a lot of reasons. Economic reasons, people traveling from region to region."
Be careful with panhandlers. Ninety percent of them are not homeless, Burch said.
"Every time you see them, they need gas," she said. "The chronically homeless people, you can definitely tell the difference from those who are precariously housed."
Burch said the county has become more efficient each year at counting the homeless. She's been working with various veteran organizations over the last four to five years that have been major participants in the count.
The county handed out 25 vouchers to homeless veterans in 2012, and that number has more than quadrupled to 111 in 2016.
"I think we made an impact in that population, but there's still a large population out there," Wolf said. "Fortunately in Kingman, we do have resources for individuals and families."
Wolf said the goal of Community Services is to end homelessness, but that's probably never going to happen. The county can provide services for the homeless, but can't force them to use those services.
It usually takes six months to a year to gain their trust to the point of being able to work with them, he said.
"Once you end a person's homelessness, they're on their way. Getting them to that point may be more of a challenge," the Community Services director said. "They have issues. It's better if they're housed than to die out in the elements."
More like this story
SUBMIT FEEDBACK
Click Below to: