Rep. Cobb's water monitoring bill dries up
HR 2520 would have mandated monitoring
By
Aaron Ricca
|
ARicca2
Originally Published: February 21, 2017 6:03 a.m.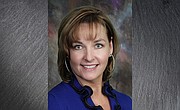 KINGMAN – A potentially critical water bill sponsored by state Rep. Regina Cobb, R-Kingman, was shot down Thursday - but she's not done fighting yet.

The Arizona House Land, Agriculture and Rural Affairs Committee nixed House Bill 2520 in a 5-3 vpte. It would have required the Arizona Department of Water Resources to conduct a survey of one or more areas in the groundwater basins of the upper Colorado River water planning area, mainly in Mohave and La Paz counties. Cobb seemed surprised during a phone interview Monday.
"It was a pretty straightforward bill," she said. "There shouldn't have been any issues."
Cobb said those who dissented were either confused about the bill's context or didn't read it. She was also surprised that two Republican committee members (Reps. David Cook and Becky Nutt) voted it down.
She'll reintroduce the bill within the next few weeks. She said its defeat isn't a major upset and she'll do everything in her power to keep it on "It really won't affect us (now)," Cobb said. "I'll just have to work harder to get the bill passed."
Mohave County Supervisor Steve Moss, who is on the Arizona Water Banking Authority and has handled county water issues in the past, was also shocked it didn't pass.
"I was truly amazed. I thought it would go over smoothly," he said.
The bill is only one tool that would assist in future local water monitoring efforts. There is currently no way to measure water usage from the aquifers. HB 2520 would have allowed ADWR to gather modern data (the last study was in 2011) to determine existing levels and paint a better picture on how to monitor future water usage.
"We essentially have an unrestricted water regime," Moss said. "There's nothing we can do about (regulating) right now."
Without HB 2520, it could be more costly to conduct studies, including a possible intergovernmental agreement between the city of Kingman, Mohave County and the United States Geological Survey, which is on tonight's city council's agenda.
"We're supposed to be protecting these resources," he said of the need to better monitor the aquifers.
Moss said Cobb was a staunch advocate for Mohave County during discussions on the bill last week.
"She fought for us," he said. "I have great respect for her."
More like this story
SUBMIT FEEDBACK
Click Below to:
This Week's Circulars
To view money-saving ads
For as little as $3.49*