The Advocates: CASA volunteers make a meaningful difference in the lives of children
Originally Published: February 26, 2017 6 a.m.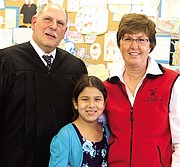 More than 800 children in Mohave County are in the care of the state. Volunteers known as Court Appointed Special Advocates step in on a child's behalf – efforts that sometimes lead to joyful outcomes for the child and the foster families that adopt them.
There's a story about a child on a beach tossing stranded starfish back into the sea. An adult comes by and asks them why they bother at all, since they can't save every one. The child replies while tossing another starfish to safety, "I may not be able to save them all, but I sure made a difference for that one."
CASA volunteers live this philosophy of making a difference one individual at a time every day, taking on the cases of children in the court system and advocating for them so that they get the resources and attention they need to find a permanent home.
They have their work cut out for them. There are over 800 children in care in Mohave County right now.
Mary Van Rooy is one of them, a CASA – a fitting acronym for court appointed special advocate.
She has been a volunteer for 19 years. Mary and others like her are volunteers who serve primarily in an advocacy role and speak up for abused or neglected children's best interests in court.
Mary was a foster parent, but now works as a CASA volunteer.
"The kids are special. You fall in love with them and want to make a difference." She was at the Mohave County Superior Court earlier this month, watching as one child she had worked with for years was officially adopted.
Mitch and Lauren Miller adopted Kaylene Miller after fostering her since October of 2013. While fostering her, they "fell in love" and worked to adopt her. CASA, and Mary, were involved in this process.
CASA's are there for the duration
Many other people involved in a child's case, such as attorneys or case managers, may come and go over time, but CASA volunteers usually stay from beginning to the end, providing a stable adult the child can rely on. CASA's goal is to see each child find permanency.
Preferably this can be achieved by being reunited with their biological family, and if that is not possible, to see them get permanency through an adoptive family.
CASA volunteer Loretta Veach helped one girl find this permanency. She was contacted by Lisa Marie Snow, who already had several adopted children. One of them, Jack, knew he had a sister who was unaccounted for and wanted to know where she was, but they couldn't find her.
Snow contacted CPS, who led her to Veach, who knew exactly who she was. Her name was Rachel and Veach had been her case manager since she was 4 years old in 2005.
Rachel, who now goes by Taylor Marie Rowland, was adopted officially this month. Her brother picked out her new name. Taylor is still getting used to having a large family with several siblings.
"It's overwhelming." Lisa Snow is grateful to Veach. "If it hadn't been for Loretta, I'd have never gotten (Taylor)."
CASA seeks new volunteers to help in their mission. CASA volunteers spend at least a couple of hours every week getting to know the children they are assigned to, spending time with them and being the eyes and ears of the court system. These children have been removed from their original homes due to abuse, mental illness, neglect, or other reasons, and may find themselves lost in an overburdened child welfare system, moving from one temporary home to another.
CASA volunteers ensure these children's best interests are met.
What it takes to be an advocate
CASA of Arizona has been speaking for abused and neglected children for over 25 years and has served over 19,000 children. In Arizona, there are 15 county CASA programs administered by the Arizona Supreme Court's CASA of Arizona office. CASA volunteers must be at least 21 years old, complete an application and interview, and pass a background check and polygraph examination.
They must complete 30 hours of pre-service training and 12 hours of in-service training annually and dedicate approximately 15-20 hours a month to help children in their care.
Each case usually takes about one and a half to two years, but individual cases can vary.
Child abuse and neglect is an issue affecting all parts of the state. According to the DCS Semi-Annual Child Welfare Report, from April 2016 to September 2016, the statewide Child Abuse Hotline received 25,076 calls that met the statutory criteria for a report. The majority of children in out-of-home care are 1 to 5 years of age. In the same reporting period, 2,722 children exited DES custody due to family reunification and 1,552 children exited DES custody due to adoption. CASA helps create better outcomes and greater cost effectiveness for these children. There are over 800 children in care in Mohave County right now. More than 90 percent of children with CASA volunteers never re-enter the child welfare system, a significant difference compared to the general foster care population. Children and their families with CASA volunteers receive more court-ordered services, and these services are more carefully targeted and monitored.
The total estimated cost of child abuse and neglect in the U.S. is over $33.3 billion. In 2013, CASA volunteers across the nation contributed 5.7 million advocacy hours, the equivalent to almost $290 million in taxpayer dollars if compensated for their services.

To learn more about CASA or to volunteer, call 602-452-3683 or visit www.casaofarizona.org or www.casaofmohavecounty.org. Rita Flores and Mary Shamowski are coordinators for Mohave County and would love to have even more volunteers to help children in need.
More like this story
SUBMIT FEEDBACK
Click Below to: