Repeal of new BLM rule could affect outdoors enthusiasts
'Don't throw the baby out with the bathwater'
Originally Published: February 27, 2017 6:04 a.m.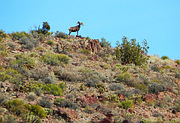 John Hamill knows the Bureau of Land Management's Planning 2.0 rule isn't the sexiest subject in Washington, D.C., these days, but management of 12 million acres of public land in Arizona grabs his interest far more than President Donald Trump's latest tweets.
The ramifications for managing public lands in Arizona are wide-ranging, said Hamill, Arizona field representative for the Theodore Roosevelt Conservat
New rule gives locals more say in planning process
The new BLM Planning 2.0 rule has several improvements over the 1983 rules, including:
The new rule provides three additional opportunities for cooperating agency and public involvement. These extra steps require the BLM to gather public opinion and consider the best available information at the start of the planning process.
Local, state, and tribal governments, including county supervisors, will retain special "cooperating agency" status that gives them extra access and standing in BLM's land-use planning process.
The new rule requires BLM to propose "preliminary alternatives," and solicits feedback from the public before formally proposing a range of alternatives in the draft Resource Management Plan. This extra step will allow members of the public to be more constructively engaged and have their voices heard in the development of a Resource Management Plan revision or amendment. "We believe this will help overcome the litigious culture that often dictates public lands management," said John Hamill, Arizona field representative for the Theodore Roosevelt Conservation Partnership.
4.The new planning rule requires the BLM to identify important areas for fish and wildlife and high valued hunting and fishing areas early in the plan development process. This will help avoid and minimize conflicts with other land uses. For example, the BLM will be required to identify the locations of wildlife migration corridor early in the planning process. This would be a critical step supporting responsible management of big game animals and other wildlife, and enhance the BLM's ability to support state wildlife agency population objectives.
ion Partnership, a nonprofit group that works to preserve the traditions of hunting and fishing.
The 2.0 rule finalized by the BLM in December affects how 245 million acres of public land throughout the West will be managed, he said.
"Public lands are the lifeblood for people who like to hunt and fish," Hamill said Thursday from his office in Flagstaff. "People come from all over the country to hunt and fish on public lands and that opportunity would be lost."
Hunters and anglers contributed $1.34 billion to Arizona's economy, Hamill said. The BLM plan must allow for reasonable public access and provide quality habitat for fish and wildlife.
Hamill has written to Sens. John McCain and Jeff Flake, both R-Ariz., asking for their support in defeating political efforts to repeal the rule under the Congressional Review Act. Both senators are on record supporting the repeal.
The House voted Feb. 7 to repeal the rule and the Senate vote could come early this week, Hamill said. It's been delayed a couple of times as Congress works through Trump's cabinet nominations.
"It's kind of a wave of anti-Obama action going on right now and they just want to repeal a lot of things that were done," Hamill said. "There's a lot of misunderstanding on this rule that you don't need to repeal all the rule to fix what needs to be fixed.
"The thing that frustrates us is we know the planning rule isn't perfect, but it doesn't warrant a complete repeal and go back to 1983," he continued. "The BLM's been working on this a long time. We think the rule is better than it was a long time ago. Let's not throw the baby out with the bath water."
Blueprint for action
The rule covers the process for determining uses of public land and factors that will be considered in Resource Management Plans. All BLM lands are managed through these local plans, which approve uses such as mining, grazing, energy development, recreation and conservation.
New plans are being prepared for the Kingman and Safford areas over the next few years. Hamill said.
Rule 2.0 is really a "blueprint" for action "to the extent that we want to have a voice with a planning process that's fair and open to make sure our needs for hunting and fishing are protected in those plans," he said.
The Congressional Review Act would strip those opportunities and prohibit the BLM from making similar updates in the future, thereby locking in inefficient and outdated regulations from 1983.
Keeping the rule gives hunters, fishermen, ranchers, hikers, miners, energy companies, tribes, counties and everyone else with a stake in public land management more opportunity to express their opinions on how the lands should be managed, Hamill said.
At the county level, the Mohave County Board of Supervisors voted Tuesday to continue supporting Congressional bills such as H.R. 6344 that authorizes the Secretary of Interior to convey federal land to qualified entities such as cities and counties.
However, Supervisor Hildy Angius said the bill is "going nowhere" in Washington, D.C., and the BLM has yet to appoint a new director. There will be no movement on those bills for a while, she said.
Kathleen Sgamma, vice president of government and public affairs for Western Energy Alliance, said the BLM's 2.0 initiative contains a number of "troublesome" provisions.
It proposes to redefine the idea of multiple use, prioritize conservation over sustained yield of natural resources, and limit public involvement, she said. It also appears to adopt a zoning approach to resource management.
"BLM should withdraw the proposed rule and reconsider its approach to resource management planning," Sgamma said in a letter to the BLM.
Western Energy Alliance represents more than 300 companies in the business of exploration and production of natural gas and oil in the West.
The movement to end the BLM planning rule could have dramatic impacts across the West, Hamill said. If it is repealed, BLM planning will revert back to the 1983 planning rules, which were universally unpopular.
Once utilized, the Congressional Review Act would also prevent new rules from being developed that are "substantially the same," Hamill said.
The revised Planning 2.0 rule would increase transparency and bring in best practices in land-use and wildlife management, while maintaining cooperation between state and local governments, he said.
"The purpose is to create a process that's fair and open for everyone to participate," Hamill added. "The BLM comes in early in the process and the next time you see them is two to three years later when they come up with a plan that's cooked or half-cooked by the time the public sees it."
More like this story
SUBMIT FEEDBACK
Click Below to: