State Rep. Gina Cobb vows to push well-monitoring bill this legislative session
By
Aaron Ricca
|
ARicca2
Originally Published: February 27, 2017 6:03 a.m.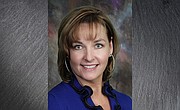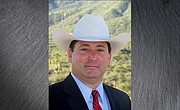 KINGMAN – The city and county are on board, but the state legislators are still in a rut when it comes to dealing with Mohave County's water supply.
The Arizona House Land, Agriculture and Rural Affairs Committee last week nixed House Bill 2520 in a split 5-3 vote, a potentially critical water bill sponsored by state Rep. Regina Cobb, R-Kingman.
The bill would have required the Arizona Department of Water Resources to conduct a survey of one or more areas in the groundwater basins of the upper Colorado River water planning area, mainly in Mohave and La Paz counties.
"I am not giving up on this and I hope to find a bill to tack this onto," Cobb said. "We asked for an IGA last summer and were denied. My bill may help indicate the need."
The state representatives who voted no included three Democrats: Reps. Wenona Benally, Rosanna Gabaldon and Jesus Rubalcava, and two Republicans: Reps. David Cook and Becky Nutt. Voting in favor were Republican Reps. Brenda Barton, Travis Grantham and Darin Mitchell.

"It's just a bad bill," said Cook, of Pinal County's District 8, who wasn't impressed by what he characterized as the demanding tone of the bill's language.
"I'm not swayed by the 'shall conduct a survey' part," he said.
"It's an unfunded mandate," he added. "Where are we going to get the money for this?"
He said that well owners can already let ADWR monitor their properties without government interference if they wish. Cook, also a rancher, said he's the only member of the Arizona Legislature that is an agriculture provider and is well aware of the need for water monitoring.
"There is no stronger voice for rural Arizona than me," he said.
Both the Kingman City Council and Mohave County Board of Supervisors agreed Tuesday for an intergovernmental agreement with the United States Geological Survey to immediately begin a three year, $450,000 study of water use in the Hualapai Basin. The city and county would split the bill.
At a water workshop in January, local geologist Luis Vega briefed Kingman's water situation.
If Kingman were to stop growing as of this moment, with the aquifer's current level, there is 216 years of water left. That includes a yearly city usage rate of 8,000 acre-feet and yearly farming usage rate of 25,000 acre-feet. The numbers change to 115 years of water left with an annual three-percent population growth and 75 years with both population and agriculture increases.
But those numbers are based on 2011 data, a few years before large farming operations began to plow and plant tens of thousands of acres in Mohave and LaPaz.
The Miner reached out to some of the local farms – Stockton Hill and Kingman Farms – to no success. Rand Terwilleger, manager of Kingman Grape Growers LLC, did take a few minutes to address his water usage and concerns. His vineyard north of Kingman uses well water, but he currently doesn't monitor water use and said his vines aren't as water intensive as hay or cotton.
"We use drip irrigation which goes right to the roots," Terwilleger said. "It's really efficient. Our water usage is very minimal."
He not sure what to make of mandatory monitoring by ADWR, however.
"Every crop varies on how much water you use," he said. "Until I could see what they mean by monitoring, I don't know how to answer that."

Mohave County Supervisor Jean Bishop was at the Tuesday night city council meeting to thank the city for getting on board with the USGS study.
"I welcome you to the fight," she said in hopes of gathering future data and taking it to the governor's office.
"Not everyone in the state feels our pain," said Councilman Travis Lingenfelter.
To read Cobb's bill, go to https://legiscan.com/AZ/text/HB2520/2017.
More like this story
SUBMIT FEEDBACK
Click Below to:
This Week's Circulars
To view money-saving ads
For as little as $3.49*