Big plans ahead for Route 66
Originally Published: January 7, 2017 11:43 a.m.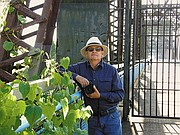 In 2014, the city of Kingman hosted the International Route 66 Festival. The theme was "Kingman: Crossroads of the Past & Future."
The opening of the world's first electric vehicle museum, a partnership between the Historic Electric Vehicle Foundation and Kingman tourism marked the beginning of a new era on Route 66, and in Kingman.
Well, with the ever increasing acquisition and donation of vehicles, including an ultra-rare electric 1998 Chevrolet S10 pickup, the museum has outgrown its current location in the Powerhouse Visitor Center and has more vehicles in storage than are on display.
In partnership with Promote Kingman, a fundraising initiative that includes solicitation of sponsors and partners, will be launched this year to rectify this problem. The goal is to raise adequate funds for establishment and creation of a dedicated museum that will chronicle the fascinating evolution of the electric vehicle, as well as related infrastructure.
On Friday mornings at 6:15 Arizona time, I host a Facebook live program where Route 66 and Kingman developments are discussed. I also answer questions received throughout the week about Route 66, the American Southwest, or American automotive history. This week, I will answer a question about Walter Chrysler's role in the development of General Motors, and provide a bit of interesting history about the electric vehicle. I hope you can join us but if not, it will be available for later viewing.
The feasibility of a possible electric vehicle weekend in Kingman this October was included in initial discussions. Chillin' on Beale Street takes place on the third Saturday of each month, April through October. However, this year Chillin' on Beale in October is being moved to the weekend of the 7th to facilitate participation of Craig Parish's National Route 66 Tour in the event.
On Oct. 9, New Zealand-based Gilligan's Route 66 Tour will stop in Kingman. This is a special tour for owners of pre-1950 vehicles shipped from New Zealand. American owners can join the tour, as well. Contact Gilligan's for details. Creating an electric vehicle festival anchored by these two events is the idea discussed. What are your thoughts? How about a Route 66 electric vehicle cruise in?
Grand Canyon Caverns
Another exciting Chillin' on Beale development is an arrangement with Grand Canyon Caverns, a Jim Hinckley's America sponsor. For car clubs attending Chillin' on Beale, or touring Route 66, a special lunch and caverns tour package will be available. For more details contact me via email or through Jim Hinckley's America on Facebook.
In a previous post I noted that a free movie night hosted by Promote Kingman will also be a part of the Chillin' on Beale activities. This will take place at Beale Celebrations and the featured films selected were filmed in Kingman or on Route 66, or are classic road trip movies.
Dependent on acquisition of a sponsor for the season of movie nights, there also will be an evening of movies on Friday evening during the 30th annual Route 66 Fun Run on the first weekend in May. If you have a business and would like to capitalize on this promotional opportunity, contact Promote Kingman.
A somewhat unrelated bit of news pertains to the third annual Miles of Possibilities Conference. Over the course of the past few weeks I have received a number of inquiries about this event. At this time not a lot of details are available, however I can tell you that it is scheduled for Oct. 19-23, and that in addition to the seminar sessions there will be historic tours, as well as a Blues Brothers celebration that will take place in Joliet, Illinois. Check out http://www.heritagecorridor.com for updates and details.
While we are on the subject of events and setting aside dates, on July 12-15, 2018, there is the Texas Welcomes the World Route 66 Festival in Shamrock, Texas. As organizers have already established a very professional website and confirmed some events, this promises to be stellar. For more information check out http://www.shamrock2018.com.
I would be quite remiss if the Route 66 Fun Run wasn't mentioned in a bit more detail. As this is one of the oldest Route 66 events, and as it is the 30th anniversary for the festival, it promises to be quite spectacular. For more information contact the Historic Route 66 Association of Arizona.
Over the holidays I received quite a few inquiries about the Jim Hinckley's America Gallery on the Legends of America website. Unfortunately, time got away from me before I could respond to all of these inquiries. About 30 days ago, a large number of new images from along Route 66, our trip to Germany, and the October odyssey through the heartland were added. These are available as prints in a variety of sizes.
Well, that wraps up today's post. I hope you can join me on Friday morning. If you happen to be in the neighborhood, stop by and let's talk Route 66. This week's program will be live from Beale Street Brews, located on the corner of Fifth and Beale streets in Kingman.
Here's the link to Mr. Hinckley's personal blog: https://jimhinckleysamerica.com/2017/01/03/2017-an-electrifying-year-on-route-66/
More like this story
SUBMIT FEEDBACK
Click Below to:
This Week's Circulars
To view money-saving ads
For as little as $3.49*