Mohave County gets share of $3.6 million grant to fight opioid addiction
Originally Published: January 8, 2017 6:04 a.m.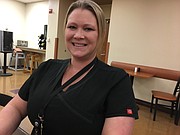 Mohave County is one of six Arizona counties targeted in a $3.6 million federal grant to battle opioid addiction, focusing on public awareness and efforts to monitor the prescription drug epidemic.
Arizona, which had the 15th-highest drug overdose rate in the nation in 2014, is one of 16 states to receive funding from the Centers for Disease Control. The Arizona Department of Health Services manages the grant.
The CDC grant will be used to sharpen awareness about the dangers of prescription drugs, including access to children and teens, said Michelle Valandingham, program coordinator for Mohave County Public Health.
Mohave County was selected based on overdose hospitalization rates and other data on prescription drug abuse. Other counties are Gila, Maricopa, Navajo, Pima and Yavapai.
A community action "tool kit" was sent to each county with strategies for law enforcement, responsible prescribing practices, patient education and substance abuse treatment. It also has information for parents on keeping the drugs away from children.
"We all have the same initiatives, the same goals," Valandingham said. "Disposing of unused medications, locking them up, using PDMP (Prescription Drug Monitoring Program), education and awareness."
America's opioid epidemic persists at a "crisis level" with 91 people dying each day from opioid-related overdoses, four times the number in 2000, said Alan Morgan, chief executive officer of the National Rural Health Association. Rural America has been hit especially hard.
"When you look at the prevalence of behavioral health specialists, there's a clinical shortage in rural areas," he said. "So you've got a self-perpetuating system where those most in need of health care services have the fewest options available."
Prevention measures
Arizona passed laws to prevent "doctor shopping" and loosen restrictions on administering naloxone, which is a drug that counteracts overdoses. The state also worked with University of Arizona to develop online training for doctors on how to prescribe opioids for chronic pain.
Special emphasis is being placed on making sure prescribers and pharmacists register with Arizona's Prescription Drug Monitoring Program, which helps doctors keep track of how many prescriptions their patients have.
Kingman Police Chief Bob DeVries said 19.2 million dosage units of opioid medications were dispensed in Mohave County in 2015, which is "significant" for a population of 200,000.
"You look at the bulk of the crime sprees, when the suspect is arrested, it all has connectivity to prescription drug and heroin abuse," he said.
KPD developed a pilot program for the Arizona Department of Health on training and policy procedures in the use of naloxone. People can also pick up "pill pods" from KPD that keep bottles of medication locked up.
"We're making progress, we're making a difference," DeVries said.
Many states and federal agencies have passed regulations limiting the amount and duration of initial opioid prescriptions, said Chris Proffit, pharmacy manager at Uptown Drug.
States also have websites with information on every controlled substance that's been prescribed to a patient. Doctors and pharmacists are required to check the site before prescribing or dispensing the drugs.
"This, in theory, will prevent patients from receiving multiple controlled substances from multiple practitioners, and filling them a multiple pharmacies," Proffit said.
Controlling dosages
Larry Twersky, chief executive officer of Los Angeles-based TimerCap, said his company works a lot with the VA, which is seeing an alarming increase in opioid addiction among combat veterans.
"Let's face it, veterans in combat have more pain and have seen more trauma than the average person sees in a lifetime, and that has to be respected," Twersky said. "To say they have more pain due to their injuries could be expected.
"Veterans, of course, have a lot more issues than the average American and the VA dispenses more opioids than the average pharmacy."
Taking prescription medication can be challenging for people under normal conditions, and opioids add another layer of complexity because they become "cognitively impaired," the CEO said. They may not have the ability or desire to monitor their dosage.
"Their perception is gone. It's like giving someone a car without a speedometer," he related. "Sure, they can read the posted speed signs, but without a speedometer, they have no way of knowing how fast or slow they're going so they can appropriately self-correct."
TimerCap, which is sold at CVS Pharmacy for about $10, is like a "stop watch" that allows patients to manage their medications in their original bottles with labeling and safety information.
"Hooked Rx: From Prescription to Addiction," a TV show about opioid addiction, will air at 6:30 p.m. Tuesday on most broadcast television stations across Arizona.
More like this story
SUBMIT FEEDBACK
Click Below to: