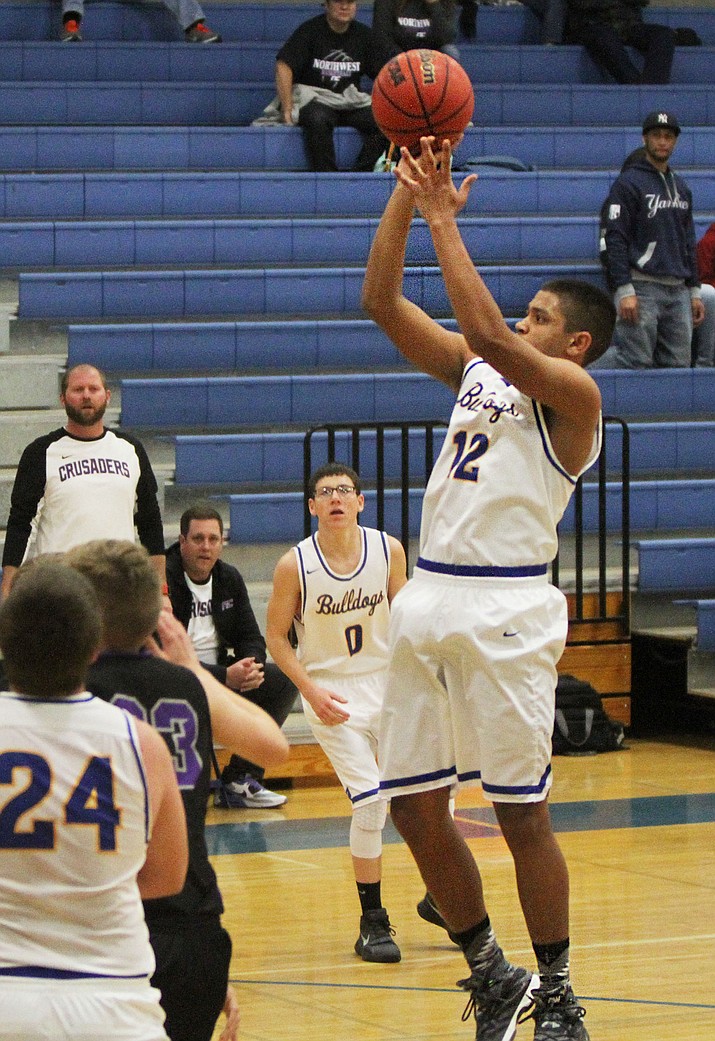 Photo by JC Amberlyn.
Originally Published: January 8, 2017 6:01 a.m.
KINGMAN – The Lee Williams Lady Volunteers are taking defense to another level. Making the basket as secure as Ft. Knox, opponents are finding it hard to score. It was no different Friday night as the Lady Volunteers held Mohave to two points in the first quarter on their way to a 50-24 win in Bullhead City.
Once again it was Chania Scott and Sadie Snay leading the way for Lee Williams. Scott scored 11 points and Snay added 10. Kristin Finch came off the bench and chipped in eight to go along with six rebounds. Kaylee Bond scored six points and grabbed five rebounds. Madison McGlathery added five points, Madision Arave scored four and dished out eight assists. Cassidy Torrey tallied four points to go along with eight rebounds, and Haley Davis finished with two pointss
Ranked at No. 17 to begin the week with two road wins, they hope to move up. The Lady Vols (11-7, 3-2 4A Grand Canyon Region) travel to Mingus on Tuesday for 5:30 p.m. game.
Kingman Academy 38, Trivium Prep 22
At KAHS, winners of their last two games, the Lady Tigers jumped on Trivium Prep 25-5 by halftime and never looked back. The Lady Tigers (2-8, 2-0 2A WEst Region) were led in scoring by senior Amberlee Steed, who had eight points. The Tigers already have won one more game than they did last year.
"I just work and push myself," Steed said of her improvement. "Our team works and we are getting better."
The Lady Tigers next play at Tonopah Valley at 5:30 p.m. Tuesday.
Kingman 54, Northwest 47
At KHS, the Lady Bulldogs opened regional play with a victory over Northwest Christian Friday, 54-47. The Lady Bulldogs (5-8, 1-0) continue to improve on the season and had to withstand a fourth quarter rally to hang on for the win over the Crusaders.
Kingman next plays at 5:30 p.m. Tuesday at Chino Valley.
BOYS BASKETBALL
Mohave 41, Lee Williams 36 (8-6, -1-3 region)
At LWHS, the Volunteers (8-6, 1-3 Grand Canyon Region) continued to struggle in region play with two losses this week. A.J. Herrera had 17 points and grabbed nine rebounds, and Parker Taylor had eight rebounds to help in the loss to the T-birds.
"I thought the first half we played pretty well," Vols coach Cain Atkinson said. "Defensively we did a nice job."
Mohave forced an up-tempo game in the second half that took Lee Williams out of its offense.
Northwest Christian 63, Kingman 56
At KH, the Kingman High School boys' basketball team suffered a region loss to Northwest Christian by a score of 63-48. The defeat leaves the Bulldogs with a record of 5-13 overall and 0-1 in the 3A West Region. Kingman hits the hardwood again when Tuesday when the Bulldogs play at Chino Valley for a 7 p.m. tipoff.