Tigers Trip Trivium: Academy preserves win in final seconds (VIDEO)
By
JT Keith
|
KDMinerSports
Originally Published: January 8, 2017 6:02 a.m.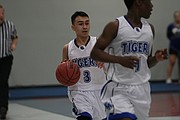 KINGMAN – Kingman Academy's Cade Martin's game is so sweet and versatile that normally he will hang 20 points on an opponent and just keep it moving, while going unnoticed.

Not last night, as he went from Nasty to McNasty status, throwing down a monster dunk over Trivium Prep's Daxton Wirth while breaking their press in the last 2:51 of the game. The play reenergized his team.
"I was open a couple of times," Martin said. "They were pressing and I just went for it."
Kingman Academy (5-6, 2-0 region) made enough plays at the end to hold on for a 55-54 win at Betty Rowe Gymnasium on Friday night. With a capacity crowd turning out to welcome back one of their own, former Kingman Academy Athletic Director and current Miner Editor Shawn Byrne stood in as Kingman Academy's guest coach.
In a game that was back and forth, the Tigers come from a 27-24 halftime deficit to win their third in a row after a disastrous 2-6 start to the season. This win against a good opponent not only lifts their spirits, but it keeps them in contention for a regional championship.
"I thought was our starting five was awesome tonight," Tiger coach Brian Devincenzi said. "We had a new starter in there tonight in Zach Mathes. I thought he played well, I had him in there specifically for his speed on the low post against their big."
In his first game back and playing sick senior guard David Larabee is exactly what the Tigers needed. He scored 17 points on the night and provided leadership, ball handling breaking the Crimson Knights press when needed and came up with the big steal in the last 11 seconds to win the game.
Larrabee's quickness makes him hard to guard in space, he constantly got to rim for layups or to feed his teammates. Larabee drove the lane and found big man Chinyere Tyler around the hoop for easy baskets as he scored 18 points. Larrabee was not afraid to take an outside shot and he hit two 3-pointers.
"It feels good being back on the floor," Larrabee said. "I've missed half of the season and I wanted to do everything I could to help us win and I want to do everything I could to make every second count."
The Tigers travel to Tonopah Valley, Tuesday at 7 p.m. tip.
More like this story
SUBMIT FEEDBACK
Click Below to: