Vols promote within for football coach
Lee Williams filling up other coaching openings
By
JT Keith
|
KDMinerSports
Originally Published: January 12, 2017 6:02 a.m.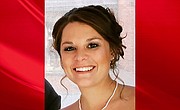 KINGMAN – The Lee Williams Volunteers have decided to stay in-house for their next football coach. Athletic Director Jacob Iodence recommended Clint Sasse, the Vols defensive coordinator.
Sasse played his college football at Chadron State College and was a safety-hybrid linebacker. He graduated with a degree in Health and Physical Education and was a two-year graduate assistant at Chadron State College where he holds a master's degree.
Sasse is from Martin, South Dakota. He played his high school football at Bennett County High School where he was twice named all-state as a running back. Sasse takes over for newly-appointed athletic director Jacob Iodence.
Iodence was Lee Williams' football coach last year, but stepped down after going 4-6 in his first season. He took over for former Athletic Director Mike Cummings, who resigned for personal reasons.
"I trust Clint," Iodence said. "I've coached with him a long time. I knew his ambition was to be a head coach. One of the things I did last year was give him the title of head coach in waiting. I knew that was the position he wanted. I treated him like a co-head coach last year. This is his dream job. Why not give it to him?"
Nothing is going to change with the team. Iodence will continue to run the offense and feature his spread and West Coast styles with a zone run game. On defense look for them to run multiple schemes depending on the opponent and offensive formation.
"It doesn't matter what we run, we teach kids to tackle," Iodence said.
Continuity is a big thing for the Vols as top assistant Tonn Tetrault, a key contributor, returns to the staff.
In other news, a recommendation for a girls tennis coach has also been put in for Haylee Tertrault. Boys tennis is still being considered. There are two people being considered for the position. Softball is still under wraps, and Iodence feels they are in a good place with this position.
"I have asked for this person to be hired," Iodence said, "and they have said, 'Yes, they want to be hired.' This person has put together her assistants. It is all but done."
"I recommended to the board to hire Julia Lasiloo for the new softball coach," Iodnence said.
Iodence feels that the Volunteers are in a good position with their coaching staff going forward.
More like this story
SUBMIT FEEDBACK
Click Below to:
This Week's Circulars
To view money-saving ads
For as little as $3.49*