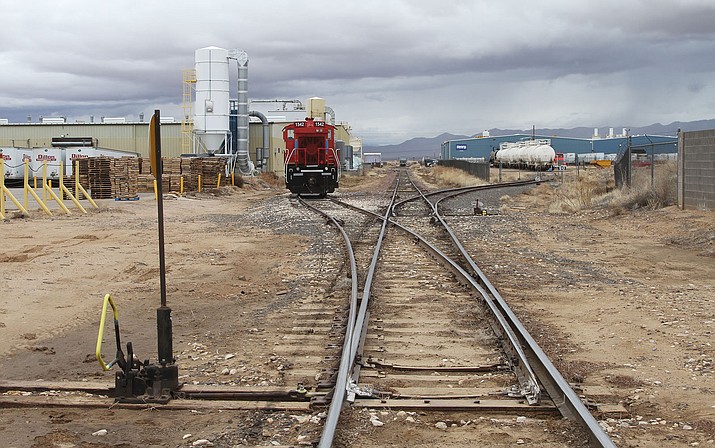 Photo by JC Amberlyn.
Originally Published: January 13, 2017 6 a.m.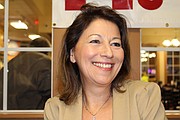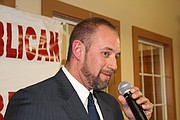 KINGMAN – Newly elected Mayor Monica Gates and Councilman Travis Lingenfelter laid out similar performance goals for Kingman Airport Authority during Wednesday's Mohave Republican Forum, but their methods of approach differed radically.
Gates rolled her eyes, shook her head and facially expressed dismay when Lingenfelter talked about terminating the city's agreement with the airport authority, which extends through 2028.
Calling the airport and industrial park Kingman's most "underutilized asset," Lingenfelter wants to replace Executive Director Dave French and Economic Development Director Bob Riley, and reorganize the authority's board of directors led by President Krystal Burge.
"This was the biggest reason I ran," Lingenfelter reminded Mohave Republican Forum members who packed the meeting room at Golden Corral restaurant.
"Whatever happens at the airport and industrial park will guide the future of Kingman."
He said Riley chases business away with his negativity when someone looks at site selection at the airport.
Gates wants to "open a dialogue" with the airport honchos, starting with an informational meeting that would get the ball rolling.
"I believe the first step is dialogue with Dave French, Bob Riley and Krystal Burge," she said. "Nothing good starts with scorched earth. Let's walk in with an open mind and have a dialogue. Nobody wants to walk into a political mess."
Lingenfelter said he respects the city council's vote to meet with the Kingman Airport Authority board, but he doesn't think it's going to lead to anything productive.
"When you put the same minds that created this problem in the same room, you're not going to come up with the answer," he said. "We need to get out of this agreement and knock down this protective wall."
The airport authority needs to hire an economic development director who's a "hard charger," said Lingenfelter, who previously worked in economic development for Mohave County. Perhaps a public-private partnership would work best for the airport.
"Someone said it's radical," the councilman said. "There's just so much more that we can do. They're so used to losing out there, they expect to lose."
Kingman Airport Authority, which oversees the 4,000-acre airport and industrial park, came under fire last year from the Kingman Airport Users Association. The businessmen claimed their interests were being ignored and petitioned the city to cancel its contract with KAA.
The group wants to ensure that any future contract or management body of the airport authority includes "transparent" objective accounting and performance measures accessible to the public.
"There will be no economic development in Kingman until the airport authority is changed and we get new people in there," Marvin Taylor, plant manager at ChromoScape, told the Daily Miner.
More like this story