Two storms will impact Kingman through the weekend
Originally Published: January 18, 2017 12:06 p.m.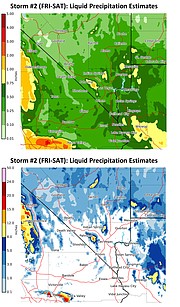 KINGMAN – The first of a pair of Pacific storms was expected to hit the region today, followed by a short break and then a second storm over the weekend, the National Weather Service reported.
Expect more of the same wintry weather we've been experiencing for the last few weeks with cold nights, scattered showers and snow levels down to 4,500 feet, according to the NWS forecast.
The weather today is going to be mostly cloudy with short periods of sunshine and a chance of showers, increasing into the evening. It will also be windy at times.
Las Vegas NWS issued a winter storm warning for the Eastern Sierra slopes of California through Saturday morning, and a winter weather advisory is in effect for the White Mountains of Arizona.
The storm could bring as much as half an inch of rain to Kingman, Dolan Springs and Meadview, according to the radar map. That would push the monthly total close to an inch and above the normal.
Kingman received 2.63 inches of rain in December, which followed 0.43 inch in November, Arizona State University climatologist Nancy Selover reported.
Another system with similar weather trends will take aim at the area Sunday and Monday.
There's a chance of snow Thursday and Friday, clear on Saturday, and then a chance of rain on Sunday and Monday. Road closures or tire chain requirements may be in effect on some mountain roads.
High temperatures won't exceed the mid-40s for the next four days, and overnight lows will range from 31 to 40.
Related Stories
More like this story
SUBMIT FEEDBACK
Click Below to: