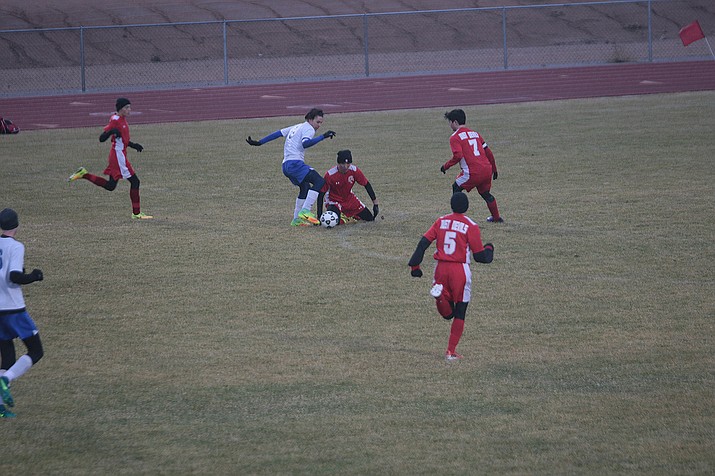 Photo by JT Keith.
Originally Published: January 22, 2017 6 a.m.
KINGMAN – Revenge is a dish best served cold.
On Friday night at home, with the weather cold, wet and rainy, Kingman avenged a 4-0 loss to region leading River Valley earlier in the season, blanking the Dust Devils 2-0 on two goals by senior Chandler Baca, who scored his 31st goal of the season.
Baca played with a determination to score and win to move the Bulldogs to a one-half game lead over River Valley in the standings. Baca scored his first goal with 32:37 remaining in the first half.
"We did better on passing in this," Baca said. "We really practiced for this game, and it is the best game we played this year."
Kingman had to win this game, and the one on Wednesday on Senior Appreciation Night against Wickenburg to have any shot at their goal of making it to state. It's going to take a region championship for the No. 30 Bulldogs to advance to the postseason.
"This is a very crucial game," KHS boys soccer coach Kevin Roberts said. "We had a very unlucky game in the valley. We had some shots that didn't go in that we could have put it, but they just didn't go in. We knew this was a very important game and to stay on our game. And that is what they did today."
Baca had five shots on goal that just missed for Kingman (8-3, 6-1 3A West Region). His aggressiveness forced shots on goals as Kingman played most of the game in front of River Valley's net.
Baca's second goal came with 16:10 remaining in the game to give the Bulldogs the 2-0 lead.
"We have to come in here on Wednesday and defeat Wickenburg to have any shot at the state," Baca said. "Our goal for the whole season is to make it to the state, so we have to come in and win Wednesday, and we have to play the way we did tonight."
The Kingman-Wickenburg math kicks off at 6 p.m.