COOKIE!!!: Girl Scout Cookies turn 100, and they're back
By
Aaron Ricca
|
ARicca2
Originally Published: January 22, 2017 6 a.m.
The first known sale of Girl Scout Cookies took place a century ago and local troops are getting ready for this year's batch.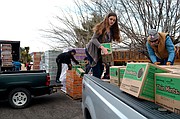 Last weekend, 17 pallets (nearly 32,000 individual boxes) of the assorted eight flavors (six traditional and two new flavors) were dropped off to local scout troops. The 2017 cookie sale season starts Monday and goes through March 5.
"This is just the first delivery," said Diane "Aunt Di" Gruener, scout leader for Troop 384 and leading the massive offload process that included help from the various troops' friends and family members. "We'll get more cases as sales progress."
Girls from local troops were at the Katherine Heidenreich Adult Center Thursday night getting their sales forms and preparing signs for the cookie booths that will begin sprouting up around town.

Gruener said there are about 165 Girl Scouts in 14 troops in Kingman. Those troops are led by unpaid volunteer troop leaders and additional co-leaders "giving of time and energy every week for the girls."

According to the official Girl Scouts of the United States of America website, www.girlscouts.org, the cookie sales started in 1917 when scouts from the Mistletoe Troop in Muskogee, Oklahoma had an idea to fund their projects by selling cookies they made themselves in their kitchens at home. Other troops took note and cookie sales took off.
Thin Mints, the best-selling cookie, made its official debut in 1959. Girl Scout S'mores and gluten-free Toffee-tastic cookies are two new flavors debuting this year. More than 200 million boxes (nearly $800 million worth) are sold nationally each year.
One hundred percent of the net proceeds from cookie sales are reinvested back into the originating council – the Arizona Cactus Pine Council oversees Kingman troops – to fund activities, trips and community service projects. Each council determines its own revenue structure depending on its cookie cost, local retail price, and the amount that is shared with participating troops and groups.
On average, Girl Scout council net revenue is approximately 65–75 percent of the local retail price; the amount shared with participating troops, referred to as troop proceeds, is approximately 10–20 percent of the local retail price.
Gruener said that in 2016, local troops sold 30,000 boxes (at $4-$6 a box) with roughly $99,430 going to council and $22,870 to the local troops.
The cookie profits go toward troop supplies, community service projects and field trips to places like Havasupai Falls, the Phoenix Zoo and even Washington, D.C. The money also funds overnight camping adventures – mostly at Camp Stephens in the Hualapai Mountains.
The sales aren't just about trips and the Girl Scouts aren't just about selling cookies. Through the Girl Scout Cookie Program, girls learn five essential life skills: goal setting, decision making, money management, people skills, and business ethics.
Girls from kindergarten to high school can be scouts, and many of those scouts have grown and started troops of their own.
Grace Ricca, a troop leader since 1992, has over the last 25 years watched hundreds of local girls grow from young, bright-eyed kids to grown women with careers, families and Girl Scouts of their own.
Ricca was a scout in the 1960s. Her first Girl Scout leader was the late Marion Watson, the first Kingman scout leader and mother of Mohave County Supervisor Gary Watson. Ricca became a leader when there weren't many in Kingman at the time and wanted to find a creative and positive activity for two of her daughters.
"I really enjoy leading the scouts and really believe in the good things they learn," she said.
Brenda Baldwin joined Gruener's troop in the first grade. Now 32, she's married, worked as a day care provider and now, a pharmacy technician. She's the co-leader for Troop 384 and credits the Girl Scouts with shaping her future and raising her 3-year-old daughter.

"I was really shy. It really helped me break out of my shell," she said. "I don't think I would have been as comfortable around kids."

For 100 years, the Girl Scouts has used cookie earnings to build everyday leaders who make a positive impact on the world. Gruener pointed towards Baldwin as an example.
"She's gone from a girl to an adult and supported the scouts all the way," Gruener said.
Editor's note: Grace Ricca is the mother of Miner reporter Aaron Ricca.
SUBMIT FEEDBACK
Click Below to:
More like this story